News

NY Asian Film Fest to Screen Asura, Gyo Anime

posted on by Crystalyn Hodgkins
Festival to also screen live-action
Ace Attorney
film in July
---

The organizers of the New York Asian Film Festival revealed on Thursday that they will screen the North American premiere of Keiichi Satou's (Tiger & Bunny, Karas) and Toei's feature film adaptation of George Akiyama's 1970-1971 Asura manga. It will also screen the video anime adaptation of Junji Ito's Gyo horror manga.
The unrelentingly dark drama of Asura follows the struggles of a child during a famine in medieval Japan. His mother was so impoverished and starved that she tried to eat Asura at the beginning of the story. Asura stars Masako Nozawa, Megumi Hayashibara, Kinya Kitaoji, Kappei Yamaguchi, and Tesshô Genda. The film will open in Japan in August. Asura is also competing at France's Annecy next month.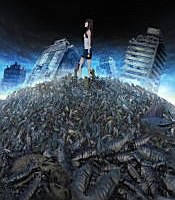 Takayuki Hirao (Futakoi Alternative, The Garden of Sinners' fifth film) directed the anime adaptation of Junji Ito's Gyo manga. The 70-minute OVA was released in February in Japan. Big Comics published two compiled volumes of Ito's manga series in 2002, and Viz Media released them in North America.
The festival will also screen Takashi Miike's live-action adaptation of Phoenix Wright: Ace Attorney. Choi Min-Sik, the star of the Korean live-action film adaptation of the Oldboy manga, will be attending the festival as a guest, and the festival will also be screening his latest film Nameless, as well as Oldboy. The 11th annual film festival will run from June 29 to July 15 at the Walter Reade Theater and Japan Society.
Asura will screen on July 12 at 6:30 p.m., Gyo will screen on July 14 at 5:30 p.m., and Ace Attorney will screen at on July 15 1:30 p.m. at the Japan Society.
[Via Twitch]
Image © George Akiyama/Asura Production Committee
---