News

Japanese Box Office, January 5-6

posted on by Lynzee Loveridge
---

One Piece Film Z stayed at #1 during its fourth weekend. The film features "Z" (Zetto), the Straw Hat pirate crew's "strongest enemy yet" who was designed by original One Piece manga creator Eiichiro Oda. Oda served as the executive producer of this film, as he did for the 10th feature film, 2009's One Piece Film Strong World. The film earned US$3,722,309 on 302 screens for a new total of US$62,867,135.

The film version of the 2011 live-action television series based on the classic supernatural adventure anime Humanoid Monster Bem (Yōkai Ningen Bem) rose from #5 to #4 during its fourth weekend. Key cast and staff from the television show returned for the film, including KAT-TUN's Kazuya Kamenashi (playing the title character), model/actress Anne (playing Bera), and child actor Fuku Suzuki (playing Berro), as well as writer Masafumi Nishida (Tiger & Bunny) and director Shunsuke Kariyama. Box Office Mojo lists the film as #5. The film earned US$888,118 on 331 screens for a new total of US$10,792,411.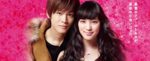 The live-action film adaptation of Kanan Minami's Kyō, Koi o Hajimemasu shōjo romance manga fell from #3 to #6 in its fifth weekend. Emi Takei (live-action Rurouni Kenshin's Kaoru, Ai to Makoto's Ai) stars as the old-fashioned "Showa-era girl" Tsubaki Hibino opposite Tori Matsuzaka (We Can't Change the World. But, We Wanna Build a School in Cambodia, Samurai Sentai Shinkenger, .hack//The Movie), who plays a "modern" boy named Kyōta. Takeshi Furusawa (Ghost Train, Another) directed the film. The film earned US$828,808 on 301 screens for a gross-to-date of US$17,343,012.
The Kamen Rider × Kamen Rider Wizard & Fourze: Movie Taisen Ultimatum film rose from #8 to #7 during its fifth weekend. The film earned US$710,017 on 300 screens for a new total of US$12,421,064.

Ōoku: Eien - Emonnosuke・Tsunayoshi Hen, the second live-action film adaptation of Fumi Yoshinaga's Ōoku: The Inner Chambers manga, rose from #12 to #8 in its third weekend. The second film covers volumes 4-6 of the manga. Masato Sakai (Honey and Clover's Shuuji, Buddha: The Great Departure, Aoi Bungaku Series) plays the Ōoku member Emonnosuke, and Miho Kanno (Tomie's title character) plays the female shogun Tsunayoshi Tokugawa. Fuminori Kaneko, a director best known for the live-action Kisarazu Cat's Eye and Ikebukuro West Gate Park television series, is returning from the previous film and television drama adaptation to direct the film, and Minako Kamiyama is handling the scripts. The film earned US$655,360 on 308 screens for a total of US$5,440,115.

The Blue Exorcist anime film fell from #7 to #9 in its second weekend. The story focuses on Rin Okumura, a boy raised by a famous exorcist named Father Fujimoto. After an argument between the two, Rin discovers he is the son of Satan. In the film, Rin encounters a new demon, the cute-looking Usamaro (played by Rie Kugimiya). Box Office Mojo did not list the film on its chart.

The Evangelion: 3.0 You Can (Not) Redo (Evangelion Shin Gekijō-ban Q) film fell from #8 to #10 during its eighth weekend. The film is the third in Hideaki Anno and Khara's four-part remake of Gainax's Neon Genesis Evangelion anime series. The film earned US$531,316 on 127 screens for a new total of US$57,077,146. (Note: Box Office Mojo listed this film as having a gross total of US$58,119,825 as of December 30, and so it is unclear why the website lists the gross total as US$57,077,146 as of January 6.)

The Inazuma Eleven Go vs. Danbōru Senki W film stayed at #12 during its sixth weekend. The crossover film between the two Level 5 franchises earned US$273,070 on 270 screens for a gross-to-date of US$7,243,674.

Takashi Miike's (Yatterman, Phoenix Wright: Ace Attorney) live-action adaptation of Yūsuke Kishi's (From the New World) Aku no Kyōten (Lesson of the Evil) psychological suspense novel returned to Box Office Mojo's chart at #14 during its ninth weekend. The film stars Hideaki Ito (Onmyoji, Sukiyaki Western Django) as an always-smiling and popular high school teacher who is also a psychopath who begins to murder his students. The film earned US$181,315 on 287 screens for a new total of US$25,936,949. (Note: Box Office Mojo listed this film as having a gross total of US$26,603,093 as of December 23, and so it is unclear why the website lists the new gross total as US$25,936,949 as of January 6.)
Sources: Kogyo Tsushinsha, Box Office Mojo
---
This article has a follow-up:
Japanese Box Office, January 12-13
(2013-01-20 22:00)
follow-up of
Japanese Box Office, December 29–30