News

Gravion's Obari Helms Ziguru Hazeru Robot Toys' Anime Shorts

posted on by Sarah Nelkin
---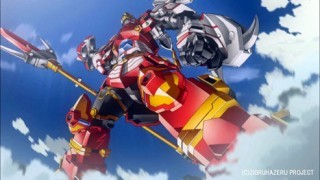 The MegaHouse Corporation revealed on Friday a new short anime project titled Bakujū Gasshin Ziguru Hazeru.
The anime is based on MegaHouse's line of Ziguru Hazeru (literally, "Jiggle and Pop Out") mecha toys that allow people to remove parts from the joints and add different parts in their place. In addition, if one combines together Hazeru Gokuu, Hazeru Sagojo, and Hazeru Hakkai, the resulting mecha will be Hazeru Seioh, allowing for users to combine their toys together.
MegaHouse also revealed the staff for the project:
Original Work: MegaHouse
Director: Masami Obari
Mechanic Design/Mechanic Director: Masahiro Yamane
Character Design: Tsukasa Kotobuki
Director of Photography: Kozue Iwasaki
Art Director Seiki Tamura
CG: Polygon Pictures

Obari is known for his work as director on the Super Robot Wars OG: The Inspector and Gravion anime series, while Yamane contributed to mechanical designs for Accel World and Magic Knight Rayearth. Tamura also did the art direction for The Disappearance of Haruhi Suzumiya and Lucky Star.
The short anime will begin airing on the Animax channel on Saturday.
Source: Saishin Anime Jōhō
Erratum: Romanization of the title has been fixed. Thanks, Kraker2k.
---
this article has been modified since it was originally posted; see change history