News

MVM: No Delay on Kids on the Slope

posted on by Andrew Osmond
Recall of U.S. Blu-ray edition should not affect British release, BR will have corrected audio,
MVM
says.
---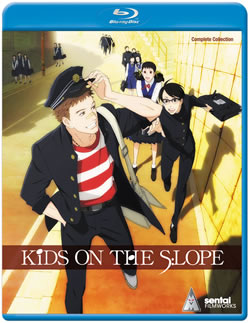 MVM Entertainment has told ANN that its U.K. release of Kids on the Slope, scheduled for June 24 on DVD and Bluray, should not be affected by Sentai Filmworks' recent recall of the U.S Blu-ray edition. MVM commented, "Luckily the error has been resolved in time for printing of UK stock. We should be all good." The company also tweeted, "Our Kids on the Slope BR release will be the version with corrected audio, so no defects on our release."
Kids on the Slope, a story of "love, friendship, and music" follows a naive boy and a scruffy boy in a provincial town in Nagasaki Prefecture in the late 1960s. The project reunited Cowboy Bebop's director Shinichiro Watanabe (Macross Plus, The Animatrix's "Kid's Story," Samurai Champloo) and composer Yoko Kanno (Macross Plus/Frontier, Escaflowne, Ghost in the Shell: Stand Alone Complex). The series was broadcast on Fuji TV's late-night Noitamina programming block in Spring 2012.
---
this article has been modified since it was originally posted; see change history