News

Ys: Memories of Celceta Slated for Holidays in U.S. With Limited Edition

posted on

2013-08-29

23:53 EDT by Egan Loo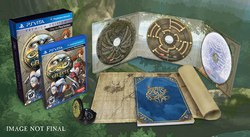 Xseed Games announced on Monday that it will release the PlayStation Vita action action role-playing game Ys: Memories of Celceta in both a US$59.99 limited edition and a US$39.99 regular edition this holiday season. "The Silver Anniversary Edition will come packaged with a host of celebratory bonus items including a 3-CD collection of original and arranged music spanning the entire history of the franchise, as well as game-specific items such as a cloth map detailing the lands of Celceta, a logo-emblazoned compass, and 'Adol's Travel Journal' containing adventuring strategies and artwork, all within an exclusive commemorative package."
Xseed Games initially announced its release with a tentative fall date.
---