×
remind me tomorrow
remind me next week
never remind me
Subscribe to the ANN Newsletter • Wake up every Sunday to a curated list of ANN's most interesting posts of the week.
read more
News

Galilei Donna, Samurai Flamenco Anime's TV Ad Posted

posted on by Crystalyn Hodgkins
---
The official YouTube channel for Fuji TV's late-night Noitamina programming block posted a commercial on Thursday for the Galilei Donna - Storia di tre sorelle a caccia di un mistero and Samurai Flamenco television anime series. The promotional video reveals that both series will premiere on October 10.

Yasuomi Umetsu (Robot Carnival, Mezzo, Kite) is directing Galilei Donna at A-1 Pictures (Sword Art Online, Silver Spoon), and Shingo Adachi (Working!!, Sword Art Online) is designing the characters. The cast includes Rina Hidaka as the youngest of the three Ferrari sisters, Hozuki Ferrari. Negoto will preform the opening theme song "Synchromanica," and earthmind will perform the ending theme song "Innocent."
Additional staff members include:
Script: Hideyuki Kurata,Touko Machida, Jun Kumagai, Atsushi Oka
Original Mechanical Design: Niθ
Art Setting: Yasumitsu Suetake, Yoshihiro Ishimoto, Maho Takahashi
Music: Shiroh Hamaguchi
Sound Director: Shoji Hata
The official website updated with a new story summary, describing the show as a "battle action adventure." The story takes place in the year 2061 AD, where global warming is a thing of the past and the early days of a glacial era now cover the entire world. Three descendents of Galileo living in Tuscany, Italy—Hozuki Ferrari, Hazuki Ferrari, and Kazuki Ferrari—are suddenly attacked by a mysterious organization and ultimately end up on international wanted lists. The organization's purpose is something called "Galileo Tezoro." With no clue what is going on, the three sisters must join forces to overcome the crisis, but their personalities are too different, making this no easy task.
The video announces that a full-length promotional video for the series will premiere on September 19. The anime will air for a quarter of a year. The show's official website also revealed character designs for the main cast on Thursday: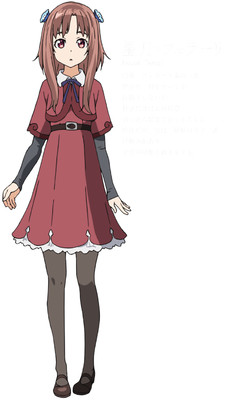 Hozuki Ferrari: The 13-year-old youngest Ferrari sister.

Kazuki Ferrari: The 17-year-old middle Ferrari sister.


Hazuki Ferrari: The 20-year-old eldest Ferrari sister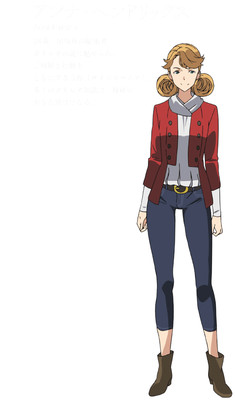 Anna Hendrix: A woman who is enchanted by the things Galileo Galilei left behind and chases their puzzles. Self-described "Galileo Maniac."

Roberto Materazzi: The eldest son of the chief executive of the world-famous company "Adonimoon Company."


Cicinho: Young leader of the air pirate troupe "Black Ganymede Troupe."
Fuji-TV will host a two-day preview event for the two series on September 27 and September 28 at the Fuji-TV Multi-Theater in Tokyo. Fuji-TV will preview the first episode of Galilei Donna on September 27 with guest appearances by the cast and staff, and the company will preview the first episode of Samurai Flamenco on September 28 with appearances by the cast and staff.

The promotional video for Samurai Flamenco revealed the show's main cast:



Toshiki Masuda as Masayoshi Hazama: 19 years old. A model for a male fashion magazine. His grandfather loved tokusatsu (special effects) hero shows, and that love rubbed off onto him, and he has longed to be a hero since he was a child. At long last due to his grandfather's invention he debuts as the new hero "Samurai Flamenco." Will he be the one to bring down the hammer of justice on the evil of the world?


Tomokazu Sugita as Hidenori Goto: 24 years old. Currently serving as a policeman. He's very diligent in his work as a policeman, but privately he doesn't particularly have a strong sense of justice. He is a very normal young man. One day by chance, he encounters Samurai Flamenco, and afterward his days become busy.


Haruka Tomatsu as Mari Maya: 18 years old. Central member of the "Mineral Miracle Muse" idol group. A talented young woman who composes and writes lyrics. A bright and energetic mood-maker who is able to connect with anyone without discrimination.


M.A.O as Mizuki Misawa: 19 years old. Leader of "Mineral Miracle Muse." From Kansai. Takes care of people and holds the group together.


Erii Yamazaki as Moe Morita: 17 years old. Member of "Mineral Miracle Muse." A high school student with a reserved and carefree personality. A native English speaker.


Juurouta Kosugi as Joji Kaname: 43 years old. An action star who used to star in the hero TV series "Red Axe." It seems he likes to travel to every corner of the world.


Toru Ohkawa as Jun Harazuka: 48 years old. A man in the prime of his life who works in the development division of the major stationary company Monsters Stationary.


Chie Nakamura as Sumi Ishihara: 28 years old. A competent manager for the entertainment production company Caesar Pro. She struggles hard every day in order to market justice in today's society.


Satoshi Mikami as Akira Konno: 32 years old. Manages the web news site "High Rollers Hi!" He has taken an interest in Samurai Flamenco and schemes to find out his true identity.
Fuji TV previously revealed that Takahiro Omori (Natsume's Book of Friends, Baccano!, Princess Jellyfish) is directing Samurai Flamenco, while Chinatsu Kurahana (Uta no Prince-sama - Maji Love 1000%, Aquarion Evol original character designs) is designing the characters. Hideyuki Kurata (Oreimo, Now and Then, Here and There, The World God Only Knows) will handle the series composition, and Yoshimitsu Yamashita (Mushibugyō, Blade of the Immortal, Phantom ~Requiem for the Phantom~) will adapt Kurahana's character designs for animation. Manglobe (Samurai Champloo, Karneval, Deadman Wonderland) is producing the series. Spyair is performing the opening theme song "Just One Life," and Tomatsu, M.A.O, and Yamasaki will perform the ending theme song "Date TIME" as their idol group Mineral Miracle Muse.
The anime's tagline reads, "To those 'adults' who don't want to become adults..." and "Hero will never give up, never hide, never be defeated, never accept evil." The series will air for half a year.
Images © Galilei Donna Production Committee
© manglobe/Project Samumenco
---