News

Hatsune Miku Project mirai 2 Video Previews New Songs

posted on by Karen Ressler
Players can customize dances, songs in 3DS game shipping in Japan on November 28
---
Sega's Hatsune Miku Project YouTube channel began streaming a 10-minute video on Thursday previewing 16 of the songs and a variety of settings for its upcoming rhythm game for the Nintendo 3DS, Hatsune Miku Project mirai 2. The video also previews the "vocal change" feature, which allows players to switch between several characters for each song, even allowing the creation of original characters for some songs.
New songs featured in the video include:
"Electric Angel" by Yasuo with costumes by Ken
"Interviewer" by Kuwagata-P with costumes by Saine
"Snowman" by halyosy with costumes by iXima
"Invisible" by kemu with costumes by hatsuko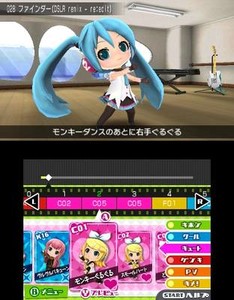 The official Hatsune Miku game blog also introduced several new features: dance studio, "my phrase," and profile card creation for Street Pass. The dance studio feature allows players to invent choreography for Miku and other characters. An "easy mode" lets the players pick a song and dictate parts of the dance to be "cute, "cool," or "energetic," while a "careful mode" allows players to pick dance moves from cards. Any character can dance to any song. "My phrase" allows players to enter their own tune and have it play with a variety of instrument choices as well as character voices.
The game will have two different play styles: one using the buttons on the 3DS and the other using the portable console's touch screen. The game's track list will feature the full, unedited versions of many songs, including 26 newly-recorded songs. In addition to the ability to change voices, players may switch around the heads and bodies of different costumes to create new looks. The game will also feature the ability to expand Hatsune Miku's room.
Famitsu revealed the game in April. Its roster includes Hatsune Miku herself in her usual outfits and her Sakura Miku costume (designed by PutiDevil), Megurine Luka, Kagamine Rin and Len, KAITO, and Gumi.
The game will ship on November 28. A "Hatsune Miku Project mirai 2 Puchipuku Pack" version will bundle a Miku Petit Nendoroid for 7,665 yen (about US$78). The standard edition will retail for 6,279 yen (US$64). Customers who preorder the game will receive a B5-size notebook while supplies last.
---