News

Theatrhythm: Final Fantasy Curtain Call 3DS Game Adds Machina, Rem Characters

posted on by Sarah Nelkin
Rhythm game featuring songs from Final Fantasy video game series ship in Japan on April 24
---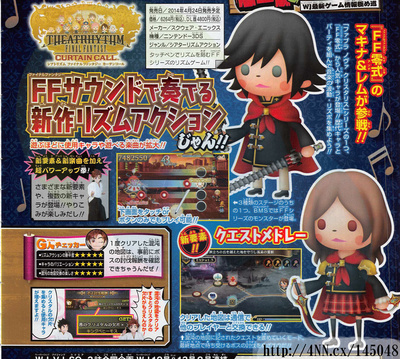 This year's 12th issue of Shueisha's Shonen Jump magazine is announcing on Monday that Final Fantasy Type-0 characters Machina Kunagiri and Rem Tokimiya will be playable characters in Square Enix's Theatrhythm: Final Fantasy Curtain Call rhythm game.
In addition, the Quest Medley system will return. In the newest installment, players are able to trade Quest Melody maps with friends wirelessly. When a map is cleared, players are able to see what boss will appear on that same map the next time the player challenges the stage.
Theatrhythm: Final Fantasy Curtain Call will ship in Japan on April 24 by itself and with its own exclusive Nintendo 3DS XL variant. The standalone game will cost 5,800 yen (about US$58), while the 3DS XL (sold as 3DS LL in Japan) Theatrhythm Edition bundle will cost 23,000 yen (US$230). Square Enix will also offer the game as a download for 4,444 yen (US$44).
The game will collect over 200 songs from Square Enix (formerly Square Soft)'s Final Fantasy series of video games, and will have appearances by over 60 characters. A versus battle mode will also be added, allowing players to challenge their friends to rhythm game battles.
---