News

Additional Cast Announced for Soredemo Sekai wa Utsukushii

posted on by Lynzee Loveridge
---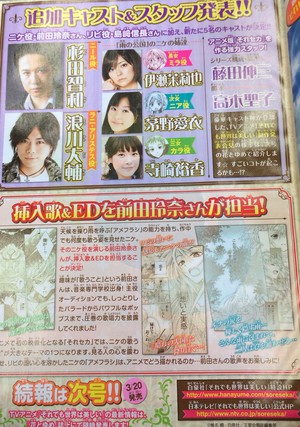 This year's seventh issue of Hakusensha's Hana to Yume, which will ship on Wednesday, is announcing several new cast members for the upcoming anime Soredemo Sekai wa Utsukushii (Even So, the World is Beautiful). Supporting cast members include:
Daisuke Namikawa as Lani Aristes
Tomokazu Sugita as Neil, Livi's secretary
Mariya Ise as Mira, Nike's oldest sister
Ai Kayano as Nia, Nike's second older sister
Yuka Terasaki as Kara, Nike's third older sister

Previously announced cast members include Rena Maeda as Nike and Nobunaga Shimazaki as Livius I. The magazine is also revealing that Maeda will perform the series' ending theme and background music.

Dai Shiina's original manga revolves around Nike, the determined princess of the Rain Dukedom who has a mysterious power: she can control rainfall. After losing a game of rock, paper, scissors to her older sisters, she is forced to unwillingly marry the king of the Sun Kingdom, Livius I. Livius (or Livi for short) conquered the world in three years, and is known as the "Dreadful King." However, when Nike meets him for the first time, she finds to her surprise that he is a boy younger than she is. Livius abruptly asks Nike to call forth the rain, and when she refuses, he has her thrown in jail. The story follows the two who, while at first are a married couple only in name, gradually begin to establish an emotional bond with one another.
The anime will premiere this year on NTV. Hajime Kamegaki (Air Gear, Fushigi Yugi) will direct the series, Ichiro Uno (Polar Bear's Café) will design the characters, and Studio Pierrot will be in charge of production.
---