News

Love Live's 2nd TV Anime Season Previewed in Commercial

posted on by Egan Loo
AnimeJapan event goods also previewed before April 6 premiere
---
The music publisher Lantis began streaming a commercial for the second Love Live anime season on Tuesday.
The commercial proclaims that Love Live! is returning once again in a second television anime season which starts in April. The new school idol anime season will premiere on the Tokyo MX TV station on Sunday, April 6 at 10:30 p.m.
The anime's official website adds that the Bushiroad booth at this weekend's AnimeJapan event will have a display in the image of Otonokizaka Academy's idol research club room, a display to celebrate the first anniversary of the Love Live! School Idol Festival smartphone app from Bushimo, and tie-in character goods for sale.
On each day of Anime Japan, the booth will give away 10,000 exclusive PR sets while supplies last. Each set will include nine exclusive Love Live! School Idol Festival card stickers, a FIVEqross PR card, and a Weiβ Schwarz PR card.
The booth will also sell the following:
Tote bag Part. 2
2,000 yen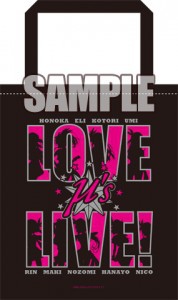 Hooded jacket
6,800 yen


Microfiber towel
6,500 yen


Woven towel
2,000 yen


Towel holder
1,500 yen


Love Live! School mug + cloth coaster (three styles)
1,000 yen each

Printemps



Bibi



lilywhite



A2 Tapestry
2,500 yen each










NIS America describes the story of the franchise:
Otonokizaka High School stands on the border of three cities: Akihabara–a pop culture mecca that's evolving by the minute; Kanda–a conservative, cultured city where history and tradition reign supreme; and Jinbo–a quiet area reserved for a more mature, sophisticated population. Amidst this culture clash, the school now faces closure due to the enrollment of fewer and fewer students.

With the school planning to close within three years, nine female students come together with one thing in mind—form a pop idol group to revive the school's popularity and keep it from shutting down. "In order to protect our beloved school, there's only one thing we can do...become pop stars!"

Their goal is simple: Become an overnight sensation and use their nationwide media exposure to promote their school and bring in a wave of new students to the ailing area. A simple but solid plan, they figure. Naturally, they're nervous and wonder if this plan can really succeed, but for better or worse their new journey has begun...

"All we can ask for is just a tiny bit of support from you. We truly believe that with your help, we can change the world around us. We will make our dreams come true!"
In 2010, the anime studio Sunrise, Lantis, and ASCII Media Works' Dengeki G Magazine launched Love Live! as a self-described "ultimate user-participation project" which lets its fans vote on the future of the fictional idols. A series of music CDs and animated music videos then followed. The members of the project announced in 2012 that an full anime series has been green-lit for this year.
The first anime season premiered in Japan on January 6, 2013. The media service Crunchyroll streamed the anime as it aired in Japan. NIS America has licensed the series for North American release.
Images © 2013 Project Love Live!
---