News

Legend of Zelda, My Little Pony Manga Creator to Appear at the Toronto Comic Arts Festival

posted on by Emma Hanashiro
---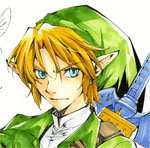 The Toronto Comic Arts Festival's official website announced Tuesday that two female manga creators who go by the name Akira Himekawa (Legend of Zelda, My Little Pony) will appear at the event on May 10 and 11. They will give live art demonstrations, sign autographs, and participate in a panel on women in the manga industry.
Shogakukan began publishing the Legend of Zelda in 2000. Viz published all 10 volumes of Himekawa's Zelda manga in North America, including The Legend of Zelda: Ocarina of Time, Majora's Mask, Oracle of Seasons, Oracle of Ages, Four Swords, The Minish Cap, A Link to the Past, and Phantom Hourglass.
Himekawa also drew manga adaptations of Legend of Crystania, Nazca, Astro Boy - Tetsuwan Atom, and Brave Story. Their Gliding REKI manga series wa a finalist in the 2007 Japan Media Arts Festival. They are currently working on the manga adaptation of My Little Pony: Friendship is Magic.
In addition to Akira Himekawa, the Toronto Comic Arts Festival will host yaoi manga creator est em (Golondrina, Seduce Me After The Show) and manga creator Moyoco Anno (Insufficient Direction, Sakuran). Previously, the festival hosted Taiyo Matsumoto (Tekkonkinkreet, Sunny) and Gengoroh Tagame (The Passion Of Gengoroh Tagame: Bara Master) earlier this year, Chi's Sweet Home author Kanata Konami in 2012, and in 2011 the festival hosted manga creators Usamaru Furuya (Lychee Light Club, Genkaku Picasso) and Natsume Ono (Ristorante Paradiso, House of Five Leaves, Not Simple).
[Via: Deb Aoki]
---