News

Happy Marriage!?'s Enjōji to Launch New Series in August

posted on

2014-04-09

01:30 EDT
New series revealed after last chapter of creator's Dear Brother! manga
---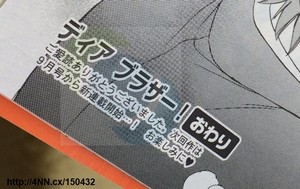 The final chapter of Maki Enjōji's Dear Brother! manga, which Shogakukan published in the May issue of its Petit Comic magazine on Tuesday, revealed that Enjōji will launch a new series in the magazine's September issue on August 8. Shogakukan did not provide any more information on the new series.
Enjōji launched Dear Brother! in 2012, and Shogakukan shipped the third compiled volume in November. The "forbidden love" brother and sister story follows Momo Komatsu, a girl who has lived alone ever since she lost her parents. When she becomes engaged to one of her coworkers, its supposed to be an opportunity to reunite with her missing brother. She meets her eldest brother Gin, her lovable second older brother Sōgo, and her younger brother Aoba. Now that they've all reunited after 15 years, will her brothers try to break off Momo's engagement?
Viz Media licensed Enjōji's 10-volume Happy Marriage!? manga series in North America, and the company released the fifth volume earlier this month.
---
In anime, you often see people brewing coffee using unique, single-cup methods - are coffee machines just not that common in Japan? Justin's got the answer.
― Alvin asks: I noticed that in many anime series, characters are depicted brewing coffee either by pouring hot water over the grounds in paper filters or using instant coffee in homes and shops, including coffee shops. Are coffee brewing machin...
An in-depth look about what Vanquish and Bayonetta - newly resurrected in shiny PC ports - say about the legacy of the legendary company that birthed them, PlatinumGames.
― In certain ways, the story of PlatinumGames is a tragedy. Founded in 2009 by ex-Capcom developers whose credits include the likes of Resident Evil, Devil May Cry, and Okami, the goal of the new company was to escape that corporate...
Paul gets a faceful of '80s action with Crusher Joe and runs down all this week's new anime releases from Haruhi Suzumiya to Umaru-chan!
― After avoiding the bandwagon for as long as possible, I finally played a bit of Overwatch last weekend. I had some fun, I have a better understanding of why people love it, and holy moly I'm terrible at it. More power to anyone who has the reaction time and teamw...
The second season of this charming fairytale romance finally comes to Blu-Ray! Theron Martin details what makes this particular shojo adaptation so special.
― The second season of Snow White with the Red Hair aired during the Winter 2016 season, covering episodes 13-24. Given the firm declaration of commitment from Zen near the end of the previous season and Shirayuki's generally secure position as a...
Mike picks over the bones of the Hollywood Ghost in the Shell, catalogs the best adaptations so far, and wonders where live-action anime might go after this.
― This year's convention season is rockin' and rollin'. This week, I'm on show number three of 2017, enjoying the sights and sounds of Anime North up in Toronto. I come up to Canada for this show, and it's always an interesting time. I admire Ca...
Food Wars is still going strong as the Polaris Dorm gets ready to take on Azami Nakiri's corrupt new administration. Rebecca Silverman has the details.
― There is rarely a dull moment in Yuto Tsukuda and Shun Saeki's Food Wars! Shokugeki no Soma manga, and while there's a small breather between storylines of this volume, the action is as intense as ever despite the climbing volume numbers. This eight...
Being surrounded by sexy love interests might seem like paradise to some, but one fan's heaven is another fan's hell. Here are seven harems with no good apples to choose from!
― Harem anime is a well-established romance sub-genre, and while most incarnations these days put our hero into a magical world outside of his own, romance options have spanned trains, transforming soda cans, and potential lit...
UQ Holder's ninth volume makes the most of its prolonged training arc material. Nick Creamer weighs the pros and cons of Ken Akamatsu's latest series.
― UQ Holder has always been an inherently strange shounen property. With its focus on a team of heroes who are all gifted with some form of immortality, the manga has at time had trouble offering compelling opponents for its protagonists. And main char...
Could Netflix's influence solve the many production and salary woes plaguing the anime industry? Justin considers the angles.
― Earl asks: The trailer for the new Castlevania anime came out today and my coworkers and I were remarking on the animation quality. It's an American production (despite what I thought initially), but it got me thinking... Would Netflix-style contracts/production be a way ou...
From fearsome warriors to gluttonous goofballs, Attack on Titan's cast is filled with a variety of colorful female characters. Rose Bridges explains what makes its cast of ladies so unique.
― Spoiler Warning: This article contains spoilers for the Attack on Titan anime up through episode 31, and also vaguely alludes to events from the Attack on Titan light novel "Lost Girls." Since the first season's...
Zac, Jacob and special guest Gabriella Ekens stitch their brains together for a deep dive on the entirety of PSYCHO-PASS - both seasons (yes, both seasons) and the film.
― ANNCast Episode 297 - Psycho-Pass Zac, Jacob and special guest Gabriella Ekens stitch their brains together for a deep dive on the entirety of PSYCHO-PASS - both seasons (yes, both seasons) and the film! You can listen to the show...
Miss Hokusai demonstrates the power of articulating life as it is lived, presenting a rich portrait of both its historical moment and its charming heroine.
― The great painter Hokusai is one of the most famous and internationally renowned artists in Japanese history. Responsible for works as recognized as The Great Wave off Kanigawa (itself an element of the vastly influential 36 Views of Mount Fuji)...