News

Daisuki to Stream Satelight's Robot Anime M3 the dark metal

posted on by Jennifer Sherman
---

Media distribution service and retailer Daisuki announced on Saturday that it will stream the M3 - Sono Kuroki Hagane television anime series under the title M3 the dark metal as it premieres in Japan. The streaming will debut on Monday at 1:05 p.m. ET, and new episodes will be added every week immediately after they air in Japan.
Daisuki describes the story:
A distorted, endlessly black darkness.
The location where the dark swallowed everything and took everything from us has become known as the Lightless Realm.
Born there, as if they were mirror images of the despair and chaos humans felt, were aberrations.
They were called Admonitions.
An investigation of the Lightless Realm that eats away at the human psyche.
Can a group of eight boys and girls gathered in an effort to combat the Admonitions see the light of the future beyond the Lightless Realm, while their past destinies and dangerous present intertwine in a complicated web?

The ensemble drama story follows eight boys and girls in the science-fiction setting of near-future Tokyo. The tagline on the official website states, "On the night of falling stars, they … heard that song…."
The cast includes (from left to right in image):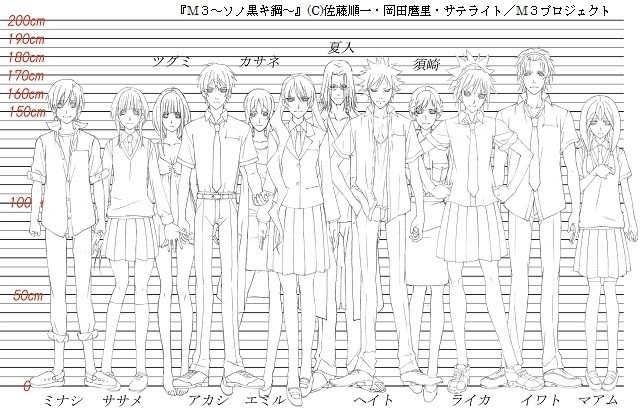 Junichi Sato (Sailor Moon, Kaleido Star, Aria franchise) is directing the project at the studio Satelight (Macross Frontier, Bodacious Space Pirates), and Mari Okada (anohana, Nagi no Asukara) is in charge of the scripts. Shoji Kawamori (Macross franchise, Cyber Formula franchise) is working on the mecha designs.
Hideki Inoue (Croisée in a Foreign Labyrinth - The Animation, Grenadier) is adapting artist Onigunsō's original character designs for animation. Takatoshi Hamano (Futari wa Milky Holmes, ToHeart2, Utawarerumono) is directing the sound at Magic Capsule, and Hajime Sakita is composing the soundtrack. The band la la larks is performing the ending "ego-izm," while Singer May'n is performing the opening theme song "Re:Remember." Flying Dog is producing the music.
A manga adaptation will premiere in Mag Garden's Monthly Comic Blade on April 30.
Update: The finalized English title is M3 the dark metal.
---