News

Ayumi Tsunematsu Stars in New Futari H OVA

posted on by Lynzee Loveridge
1st
OVA
volume slated for October 10
---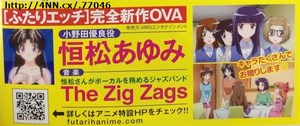 The wraparound jacket band on the 61st volume of Aki Katsu's Futari H (Manga Sutra) manga is announcing on Tuesday that voice actress Ayumi Tsunematsu will star in the new original anime video series as Yura Onoda.
Tsunematsu has previously voiced Ageha Chōno in Wizard Barristers: Benmashi Cecil, Maiya Hisau in Fate/Zero, Takako Kawajiri in Hanasaku Iroha - Blossoms for Tomorrow, and Marina Ismail in Gundam 00.
The new video anime is slated to debut on October 10. The band The Zig Zags will perform the OVA's theme song. Additional cast includes:
Yūichi Nakamura as Makoto Onoda
Chiwa Saito as Rika Kawada
Sarah Emi Bridcutt as Narrator
Akari Harashima as Rui Tsutsumi
Iori Nomizu as Miyuki Kikuchi
The new anime, which is the first new anime for the franchise in 12 years, will have three volumes and will tell an all-new original story. The first episode will be titled "Futari no First Christmas" (Our First Christmas). The story will revolve around Makoto and Yura's first Christmas together after they have gotten married and had sex for the first time.
The second episode is titled "Toaru Joshi Gakusei no Second Impression" (The Second Impression of A Certain Female Student), and the third episode is titled "Totsuzen Office de Third Love" (A Sudden Third Love in the Office).
Tetsuro Amino (Macross 7, Broken Blade, Shiki) is directing and storyboarding the anime off of scripts by Kazuki Yamanobe (Fafner, Onegai My Melody, Potemayo) at Production Reed. Toshihide Masudate (Strike Witches, Elf Princess Rane) is serving as both chief animation director and character designer.
Katsu (Psychic Academy, The Vision of Escaflowne) has been drawing Manga Sutra, which describes itself as a "love bible" or a "user's manual" for people in love, in Young Animal and Young Animal Arashi since 1997. The manga has sold 24 million copies so far.
Tokyopop published Katsu's The Vision of Escaflowne, Psychic Academy, and Manga Sutra in North America before closing its doors in 2011. Media Blasters licensed and released the 2002 OVAs on DVD in North America under the title Step Up Love Story.
A third live-action film based on the manga shipped on home video in Japan in 2012.
---