×
remind me tomorrow
remind me next week
never remind me
Subscribe to the ANN Newsletter • Wake up every Sunday to a curated list of ANN's most interesting posts of the week.
read more
News

Binan Kōkō Chikyū Bōei-bu Love! Anime's Staff, Cast, Promo Video Unveiled

posted on by Karen Ressler
Story teased for 'Handsome High School Earth Defense Club Love!'
---
A Niconico Live Streaming event for the upcoming original anime Binan Kōkō Chikyū Bōei-bu Love! (Handsome High School Earth Defense Club Love!) unveiled the first promotional video along with the staff, cast, and summary on Thursday.
Yumoto: My house!? Kurotama Springs is in business with rave reviews!
Boy: We make wooden chopsticks wood from thinned forests, so it's utilitarian.
En: what kind of a Schrödinger excuse is that!?
Ryu: I think love is a real but quiet thing.
Io: It's called the Concorde effect, and it only increases profits at the end.
Narrator: The Earth Defense Club as a club that does nothing. However, one day...
Wombat: I want to save this planet.
Yumoto: Whoa! A wombat!
Narrator: They really end up protecting the Earth.
Yumoto: We are the protectors of love!
All: Battle Lovers!
Kinshiro: Are you just going to let those disgusting and unrefined students get away with this?
Ibushi: Well, I do think they need rules...
Akoya: Well, I don't want to see anything dirty and ugly.
Zunder: Remember that I will conquer the world.
Wombat: Now, everyone! You must do Love Making!
Yumoto: What!?
Narrator: What is Love Making?
In the story, the high school "Earth Defense Club" is basically the "do nothing club." Club members En and Atsushi are soaking in the bathtub at a public bath when suddenly a mysterious pink creature, Wombat, appears out of thin air and asks, "I want to save this star... please would you lend me your power?" Then, Yumoto, whose family runs the bath house appears and chases wombat to give him a hug.
In school the next day, the remaining two members, Io and Ryū, also meet Wombat. Wombat gives all five of them bracelets and tells them to protect Earth. A dazzling light comes from the bracelets and envelops their bodies...
The cast includes:
Defense Club: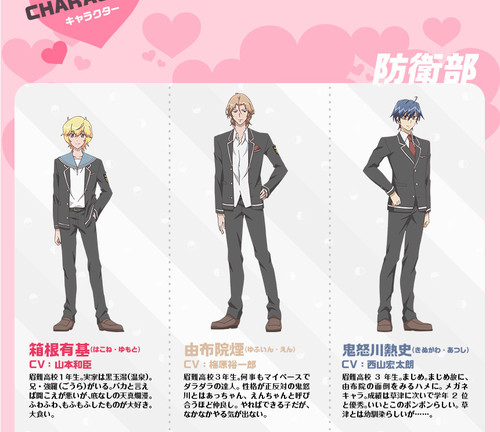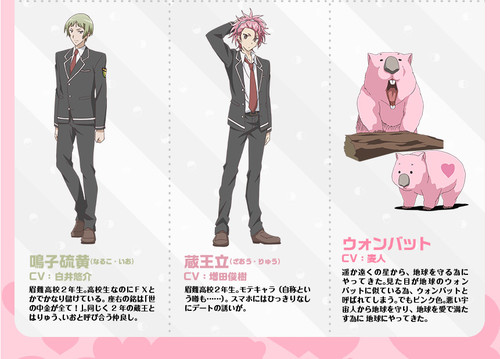 Kazutomi Yamamoto (Love Stage!!'s Kōsuke) as Yumoto Hakone
Yuichiro Umehara (Orenchi no Furo Jijō's Wakasa) as En Yufuin
Kōtarō Nishiyama (Haikyu!!'s Kazuhito Narita) as Atsushi Kinugawa
Yusuke Shirai (The World Is Still Beautiful's Minor Rani Theus) as Io Naruko
Toshiki Masuda (Samurai Flamenco's Masayoshi Hazama) as Ryū Zaou
Mugihito (Tokyo ESP's Sukesaburō) as Wombat
Conquest Club:

Hiroshi Kamiya (Attack on Titan's Levi) as Kinshirō Kusatsu
Jun Fukuyama (Black Butler's Grell) as Ibushi Arima
Takuma Terashima (Uta no Prince Sama's Otoya) as Akoya Gero
Hiroki Yasumoto (Hetalia - Axis Powers' Germany) as Thunder

The Staff:
The show is slated to premiere January 2015.
Images © Kurari Umatani/Kurodama-yu
Update: En and Atsushi's name spellings fixed. Thanks, Jacquipuff.
---