News

Seven Seas Adds Monster Musume 4-Panel Anthology Manga

posted on by Karen Ressler
---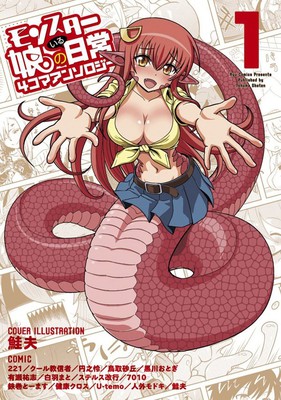 Seven Seas Entertainment announced on Friday that it has licensed the two-volume anthology manga Monster Musume: I ♥ Monster Girls (Monster Musume no Iru Nichijō 4-Koma Anthology). The first volume is slated for May 17, 2016, and the second is slated for July 12, 2016. Each volume will include 3 color postcards.
Monster Musume: I ♥ Monster Girls is a collection of original four-panel spinoffs of OKAYADO's Monster Musume manga. The stories are by various artists, including Shake-O (Nurse Hitomi's Monster Infirmary), SaQ Tottori (Kyōkai Senjō no Limbo), Cool-Kyou-Sinnjya (I Can't Understand What My Husband Is Saying, Komori-san Can't Decline), and others. Shake-O drew the cover of the first volume (pictured right).
Tokuma Shoten published the first anthology volume in Japan in August and the second in September.
Okayado launched the original manga in Tokuma Shoten's Monthly Comic Ryū magazine in 2012. Seven Seas Entertainment published the seventh compiled volume in North America in July, and it describes the story:
Monsters: they're real, and they want to date us!

Three years ago, the world learned that harpies, centaurs, catgirls, and all manners of fabulous creatures are not merely fiction; they are flesh and blood - not to mention scale, feather, horn, and fang. Thanks to the "Cultural Exchange Between Species Act," these once-mythical creatures have assimilated into society, or at least, they're trying.

When a hapless human teenager named Kurusu Kimihito is inducted as a "volunteer" into the government exchange program, his world is turned upside down. A snake-like lamia named Miia comes to live with him, and it is Kurusu's job to take care of her and make sure she integrates into his everyday life.

Unfortunately for Kurusu, Miia is undeniably sexy, and the law against interspecies breeding is very strict. Even worse, when a ravishing centaur girl and a flirtatious harpy move in, what's a full-blooded teenage human with raging hormones to do?!
Crunchyroll streamed the anime adaptation as it aired this past summer, and Sentai Filmworks licensed the anime for North America.
---