News

Funimation Streams English-Subtitled Trailer for 2nd Live-Action Rurouni Kenshin Film

posted on by Alex Mateo
Film covering 1st half of Makoto Shishio arc screens on September 12-14 in U.S.
---
Funimation began streaming an English-subtitled teaser trailer on Tuesday for its release of Rurouni Kenshin: Kyoto Inferno, the second film in the live-action film trilogy adaptation of Nobuhiro Watsuki's Rurouni Kenshin manga.

The film covers the first half of the Makoto Shishio arc from the original manga.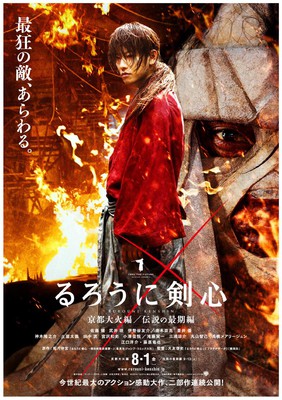 The company is releasing all three films in Japanese with English subtitles in theaters in the United States. Rurouni Kenshin: Origins screened from August 8-10, Rurouni Kenshin: Kyoto Inferno will screen from September 12-14, and Rurouni Kenshin: The Legend Ends will screen from October 3-5.
Funimation will release the first film under the title Rurouni Kenshin Part I: Origins on Blu-ray Disc and DVD on November 1, and the release will include an English dub track.
The first live-action Rurouni Kenshin film opened in 2012 in Japan, while the sequels opened in August and September 2014. The films collectively grossed more that US$160 million internationally.
The films adapt Nobuhiro Watsuki's manga, which ran from 1994 to 1999 in Shueisha's Weekly Shonen Jump magazine. An anime series aired in Japan from 1996 to 1998 and spawned several anime video projects and an anime film. Viz Media published the original manga and the two-volume Rurouni Kenshin: Restoration reboot manga in North America, while Media Blasters released the television anime. ADV Films released the two Rurouni Kenshin: Trust & Betrayal and Rurouni Kenshin: Reflection video anime projects and the Rurouni Kenshin: The Motion Picture anime film on DVD, and Aniplex later released these three titles on Blu-ray Disc. Sentai Filmworks released the more recent Rurouni Kenshin: New Kyoto Arc video anime series on Blu-ray Disc and DVD.
---