News

Gempak Starz Licenses Agensi Detektif Mistik Manga

posted on by Rafael Antonio Pineda
1st volume of manga about supernatural detective agency ships this month
---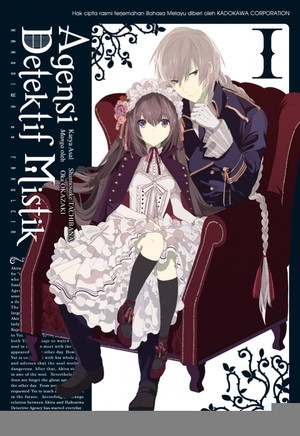 Malaysian publisher Gempak Starz announced on Friday that it has licensed Shinnosuke Tachibana and Oka Okazaki's Agensi Detektif Mistik (Hakoniwa no Reijō Tantei or Hakoniwa no Fräulein or The Little Garden's Young Detective) manga. The company will release the manga's first volume this month.
Gempak Starz describes the manga:
Insomniac high-school student Akira is seeking help for his problem, and finds himself, on recommendation from the Internet, at a place called the "Mystic Detective Agency." The proprietor includes a young girl detective named Yui, who is purported to be psychic, and her overprotective and somewhat sadistic butler Kujō. They try to uncover the reason, supernatural or not, of Akira's insomnia.
Tachibana and Okazaki launched the manga in Kadokawa's Young Ace magazine in 2013, and ended it in 2015. Kadokawa published three compiled book volumes for the manga. Tachibana launched a separate prose novel version on Kadokawa's Shōsetsu-ya Sari-Sari website in 2014, and ended it in 2015. Kadokawa collected the novels into two books. Tachibana also wrote a spin-off novel titled Tantei Shitsuji Kujō Kōjirō (The Detective Butler Kōjirō Kujō) in 2015.
---