News

Senran Kagura Game Series to Announce New Title on August 1

posted on by Jennifer Sherman
Marvelous, Honey∞Parade Games hold live streaming event on Tuesday
---
Marvelous and Honey∞Parade Games will hold a live streaming presentation to announce a new Senran Kagura work on August 1 at 6:00 p.m. The presentation will stream on YouTube and Niconico.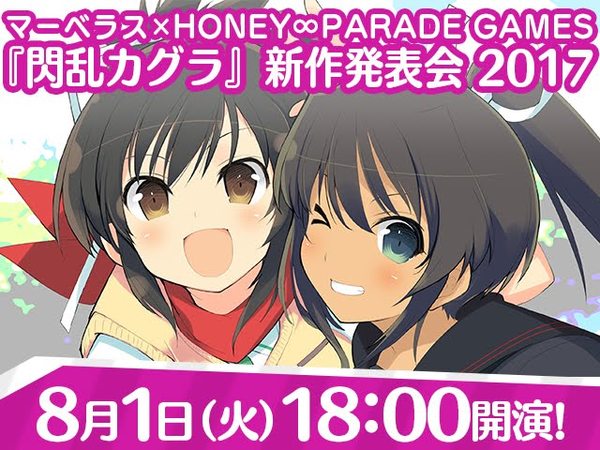 The 90-minute program will announce a new title or titles and provide the more information about the Shinobi Rifure -Senran Kagura- game, which is in development for Nintendo Switch.
Celebrity Mika Kanō will appear as a special guest on the program. Voice actresses Hitomi Harada (voice of Asuka) and Eri Kitamura (voice of Homura), as well as Senran Kagura series producer Kenichirō Takaki will also appear.

A trademark for "Shinobi Master - Senran Kagura New Link" was filed on June 26 and made public earlier this month. The trademark was filed in categories that include console, computer, and mobile games.
Marvelous established its Honey∞Parade Games subsidiary company on May 9. The new company's main focus is the production and promotion of the Senran Kagura series, but it also aims to create "next generation" IP. Takaki, who previously established the Honey∞Parade Games studio within Marvelous, now serves as representative director for the new company.
The Senran Kagura franchise began with the release of the original game on the Nintendo 3DS in September 2011. The games inspired a television anime in 2013. Funimation streamed the series as it aired in Japan, and released it on Blu-ray Disc and DVD in 2014.
The latest game release in the series is Senran Kagura Peach Beach Splash, a PlayStation 4 game that shipped in Japan on March 16. XSEED Games will release the game in North America and Europe this summer.
[Via Gematsu]
---