Japanese Female Punkers Falsies on Heat Return to JapanFiles.com
FALSIES ARE BACK!!!
JAPANESE FEMALE PUNKERS FALSIES ON HEAT RETURN TO JAPANFILES.COM
August 1, 2007 – After a brief absence from the JapanFiles.com roster, Falsies on Heat returns to JapanFiles.com thanks to a new partnership with the band's current label Sputnik Lab.
Falsies on Heat was nominated for Best Japanese All-Girl Band in Shojo Beat's 2007 Music Issue.
Recommended tracks: Groovy, Fat, Aphrodite.
Music at: www.japanfiles.com/falsiesonheat
About JAPANFILES.COM:
JapanFiles.com is the only online service that specializes in MP3 sales for Japanese rock artists, with over 250 indie bands reaching their USA fans through our site - rock, hip-hop, punk, and techno! JapanFiles.com is the largest source in the USA for legal downloads of Japanese music and DRM-free. Downloads are only 99 cents each!
Band photo – 1 – official (photo credit: Sputnik Lab)
Band photo –2 (photo credit: JapanFiles.com/David Cirone)
Lead singer Wakame w/ Shojo Beat magazine (photo credit: JapanFiles.com/David Cirone)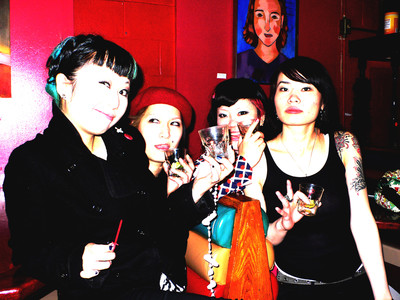 ---