SXSW Favorites Asakusa Jinta Bring the Swing to JapanFiles.Com
October 9, 2007 – After their splash USA debut at SXSW 2007, Japanese hardcore marching band Asakusa Jinta joins the JapanFiles.com roster this week with their CD "Sky Zero."
BIO:
ASAKUSA JINTA is a hardcore marching brass band from Asakusa in Tokyo, Japan; they call themselves Asianica Hard March Band.Their music style is a mixture of Rocakbilly, uptempo country, punk and Japanese Kenka and Kayokyoku from the 1930's. Their base is Asakusa, Tokyo's old downtown, an area reminiscent of traditional Japan. They love this town and people who live there love the band as they are known as a marching band playing on the shopping streets or for weeklong parades.
Asakusa Jinta's music theme is joy and sorrow of life and "Giri and Ninjo", the spirit of traditional Japanese emotions such as sympathy, compassion, love and friendship.They are playing a style of music from the 1930s - actually it's more like a '30s brass band that plays in many different styles. Some songs are like uptempo country or rockabilly, but most of it is just frenetic klesmer. Just accordions and saxophones and trombones all playing lightning fast happy melodies while stand-up bass and drums and tubas throw down polka-style rhythms.
The Hawaiian shirts and vaguely lounge-lizard outfits adds the finishing touch to this eccentric band.
Links:
www.japanfiles.com/asakusa
www.asakusajinta.com
About JAPANFILES.COM:
JapanFiles.com is the only online service that specializes in MP3 sales for Japanese rock artists, with over 250 indie bands reaching their USA fans through our site - rock, hip-hop, punk, and techno! JapanFiles.com is the largest source in the USA for legal downloads of Japanese music and DRM-free. Downloads are only 99 cents each!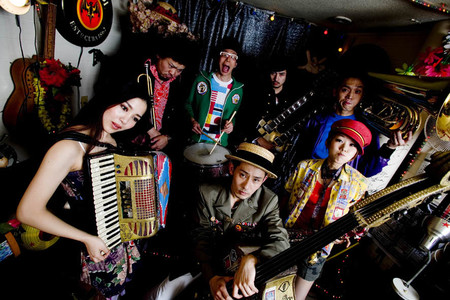 ---