New People Sponsors First J-Pop Summit Festival on August 15th Featuring Pop Punk Girl Bands from Japan
TsuShiMaMiRe, Noodles, And Red Bacteria Vacuum Celebrate The Opening Of New Japanese Pop Culture Attraction In Japantown With Japan Nite Special: Girls Rock Explosion! Mini Concert In Peace Park And Full Show at Yoshi's SF
San Francisco, CA, August 4, 2009 – NEW PEOPLE, a dynamic entertainment destination bringing the latest examples of Japanese popular culture to North American shores, celebrates its Grand Opening and sponsors a hard-rocking line-up of Japanese punk and alternative bands to play the Japan Nite Special: Girls Rock Explosion!, co-sponsored by MTV Iggy and Japan Airlines, as part of the first annual 2009 J-Pop Summit Festival, taking place in Peace Park in San Francisco's historic Japantown.
The Japan Nite Special: Girls Rock Explosion! will feature TsuShiMaMiRe, Red Bacteria Vacuum, and Noodles. The mini-concert begins at 12:45pm and is free. A second show is also planned for at Yoshi's S.F., the U.S.'s largest Jazz club / Japanese Restaurant located near the Japantown on August 16th at 8:00 p.m. Tickets: $16 advance / $20 at the door. Tickets are now available at http://www.yoshis.com/sanfrancisco
Also appearing will be OMODAKA, a duo that offers an ambient and ethereal sound mixing Minyo (Japanese traditional-flavored folk music) and electronic music, and a special performance art dance piece by Harajuku fashion label 6%DOKIDOKI.
TsuShiMaMiRe blends elements of punk, ska, jazz, funk and rock with danceable beats and power pop chords. The band, which is composed of three girls, formed in 1999 and has gained widespread international notoriety for their intense live shows and songs about everything from tragedy and sex to fish cakes. TsuShiMaMiRe has been a major force bringing Japanese rock, or 'J-Rock,' to an international audience and toured the U.S., most recently in 2005 on the Japan Girls Nite Tour, teaming up with girl-bands Noodles, Titan Go King's and Petty Booka. The band was also the popular opening act for the "Suicide Girls Live Burlesque Tour."
Red Bacteria Vacuum is a 3-piece all-girl punk band from Osaka with a hard driving melodic sound reminiscent of bands like The Avengers and The Distillers. Their album Roller Coaster was released in January 2006 and the band has toured the U.S. with SXSW's Japan Nite.
Noodles hails originally from Yokohama and enjoys a huge national following in Japan, where they are one of the most popular all-girl groups. The melodic power-punk quartet takes influences from artists like PJ Harvey and Garbage. Noodles has toured extensively, including four trips to the U.S., and has also opened for alternative heroes The Breeders. The band's most recent U.S. outing was as the opener for anime champions, The Pillows' very successful Delicious Bump Tour.
NEW PEOPLE offers the latest films, art, fashion and retail brands from Japan and is the creative vision of the J-Pop Center Project and VIZ Pictures, a distributor and producer of Japanese live action film. Located at 1746 Post Street, the 20,000 square foot structure features a striking 3-floor transparent glass façade that frames a fun and exotic new environment to engage the imagination into the 21st Century. A dedicated web site is also now available at: www.NewPeopleWorld.com.
Punk Girl Bands from Japan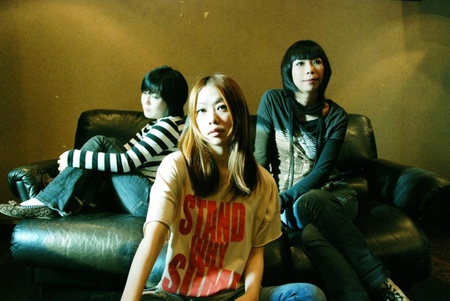 ---