Yu-Gi-Oh! 5D's Trading Card Game Deluxe Card Sleeves Available September 14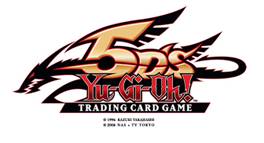 Yu-Gi-Oh! 5D's TRADING CARD GAME DUELISTS CAN NOW SHOW OFF THEIR CARDS
WITH COOL PROTECTIVE SLEEVES
EL SEGUNDO, Calif. (August 24, 2010) –
Konami Digital Entertainment
, Inc. (
Konami
), the makers of the best-selling
Yu-Gi-Oh!
TRADING CARD GAME (TCG), want Duelists to protect their favorite cards while still enjoying the incredible imagery of each one; so on September 14th they will release new packs of Deluxe Card Sleeves to hobby and retail stores nationwide.
The Deluxe Card Sleeves are durable, high quality sleeves that are printed with the same pattern seen on the backs of each Yu-Gi-Oh! TCG card. Players can now enjoy the original beauty of the cards and keep them in pristine condition, even during intense Dueling!
The 50-sleeve pack (MSRP $3.99) provides enough card sleeves to protect most Duelists' Decks and are the perfect way to show off any collection, large or small.
For more information on Konami, the Yu-Gi-Oh! TRADING CARD GAME or the Deluxe Card Sleeves, please visit
www.yugioh-card.com
.
About The Yu-Gi-Oh! TCG
The Yu-Gi-Oh! TRADING CARD GAME is the #1 trading card game in the world with over 22 billion cards sold. It is a game of strategy, where players create individual Decks of cards collected from Structure Decks and Booster Packs. Two players engage in a Duel while using cards that represent powerful monsters, magical Spells and surprising Traps. Duelists with well-constructed Decks, dominating monsters, solid strategy and good fortune are the victors in the Yu-Gi-Oh! TCG. Konami Digital Entertainment, Inc. is the exclusive licensee and rights holder to the Yu-Gi-Oh! TCG in North America and Latin America.
About KONAMI
KONAMI is a leading developer, publisher and manufacturer of electronic entertainment properties and traditional trading card games. KONAMI's software titles include the popular franchises Metal Gear Solid, Silent Hill, DanceDanceRevolution and
Castlevania
, among other top sellers. KONAMI is also the manufacturer of the wildly popular Yu-Gi-Oh! TRADING CARD GAME, which has sold more than 22 billion cards worldwide. The latest information about KONAMI can be found on the Web at
www.konami.com
. KONAMI CORPORATION is a publicly traded company based in Tokyo, Japan with subsidiary offices, Konami Digital Entertainment Co., Ltd. in Tokyo, Japan, Konami Digital Entertainment, Inc. in the United States and Konami Digital Entertainment GmbH in Frankfurt, Germany. KONAMI CORPORATION is traded in the United States on the New York Stock Exchange under the ticker symbol KNM. Details of the products published by KONAMI can be found at
www.konami.com
.
---