MangaGamer Announces Da Capo 2 Release
December 24, 2010 - We at
MangaGamer
are proud to announce our release of
Da Capo
2!
Just in time for Christmas, we're bringing you our newest release, Da Capo 2, a romantic tale from Circus, makers of Suika, that spans the winter holidays with a heartwarming story that'll keep you cozy through Spring.
While knowledge of the original Da Capo is beneficial, Da Capo 2 can be played with no prior knowledge of the series, making it a great visual novel for anyone looking to try out the genre. Each path features one or two erotic scenes, all consensual.
Additionally, fans of the hit new anime
Oreimo
are in for a special treat, as Da Capo 2 was actually featured in Kirino's game collection in the first episode. Find out what all the fuss is about as you pursue your little - and big - sister, childhood friend, or a host of other beautiful girls on Hatsune Island.
STORY
Once again, winter begins to settle on Hatsune Island. As the cherry blossoms of the Everlasting Cherry Tree dance amongst the falling snow, Yoshiyuki, his two sisters, and his friends are all getting ready for the holiday season. Their academy is bustling as everyone prepares for the Christmas party, decking the halls and practicing their performances. When Christmas Break passes, they too will begin the final stretch of their last year at the academy. Will Yoshiyuki and the others find love in this holiday season, or will it pass by like every year before? What mysterious power does the Everlasting Cherry Tree hold?
Find out in this stunningly gorgeous, slice of life tale of love, romance, and drama between a group of friends who never expected something more to happen.
Da Capo 2
Manufacturer: Circus
Genre: Adventure
Price: 34.95 Euros
OS: Windows XP(32bit), Windows Vista(32bit), Windows 7(32bit)
Text Language: English
Voice Language: Japanese
Age Rating: 18+ (Adult Only)
ABOUT
MANGAGAMER.COM
MangaGamer.com is the world's first legal download site for English translated Visual Novels. Since its launch in July 2008, it has offered services where fans can download and enjoy popular Visual Novels such as
CIRCUS
's Da Capo and
OVERDRIVE
's Kira Kira right from their home. Don't forget to visit us on
Facebook
and Twitter!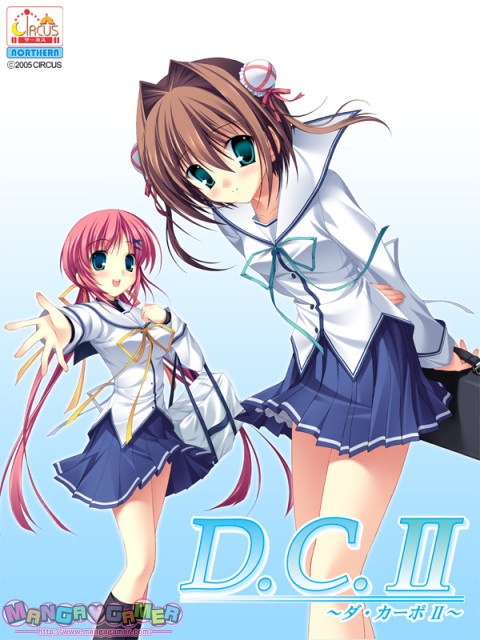 ---
discuss this in the forum (5 posts)
|