NEC BIGLOBE Android App, SUGOI BOOKS Now Available in Canada!

Tokyo, November 8, 2011
– NEC BIGLOBE, Ltd. (BIGLOBE), one of Japan's leading Internet service providers, announced today that its digital bookstore Android app "SUGOI BOOKS" has begun offering manga titles, both in native Japanese and translated into English, in Canada.
SUGOI BOOKS expands its service into the Canadian market with a library of more than 500 titles, featuring authentic manga books translated into English, and English-language comic books by IDW Publishing. Titles include: "Appleseed" by Masamune Shirow, "STOP!! HIBARIKUN!" by Hisashi Eguchi, "Kaze No Jin" by Hiroshi Motomiya, the "TRANSFORMERS" series, the award-winning "Locke & Key" series, and the "True Blood" series. Original manga such as "Hell of the Girl", "Rashomon", "Hachiko", "Portrait of Hell", and "The Setting Sun" are also available.
To commemorate its service launch in Canada, BIGLOBE will give away 300 free tickets that can be used to buy manga chapters through Thursday, December 1 at midnight (PST) to anyone in Canada and the United States, who downloads the app and registers an account on SUGOI BOOKS.
BIGLOBE intends to achieve an annual sales of 10 billion yen in the year 2013, by expanding its manga library to 50,000 books at the end of 2012, continuing to grow global distribution by launching its bookstore around the globe, and by providing its service on multiple platforms including iPhone, Windows Phone, and BlackBerry.
Featured Content: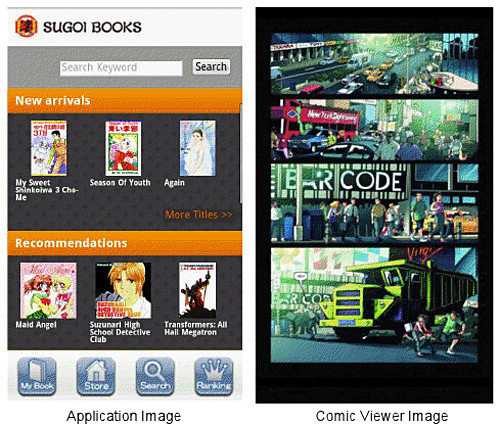 SUGOI BOOKS' manga are adapted to smartphone dimensions. Pages are perfectly fitted to 3.5 inch and most other displays. (Manga Shown: Transformer)
SUGOI BOOKS Summary

Website: www.sugoisugoi.com
Android(TM) Market:
https://market.android.com/details?id=jp.ne.biglobe.topbooks.us
Available Platforms: Android 1.6 or higher.
BIGLOBE also plans to release the SUGOI BOOKS app for iPhone/iPad, Symbian, and BlackBerry.
Payment method: PayPal
Readers can purchase books with the following prepaid ticket plans:
Monthly-Purchase Tickets: $26.75 (2300 Tickets), $13.50 (1100 Tickets), $4.00 (310 Tickets)
Pay-As-You-Go Tickets: $26.75 (2200 Tickets), $13.50 (1050 Tickets), $7.00 (500 Tickets), $1.40 (100 Tickets)
NEC BIGLOBE, Ltd.
NEC BIGLOBE, Ltd. (Established in July, 2006, based in Tokyo) is a member of the NEC group, one of Japan's leading IT companies. The company is one of the largest Internet service providers in Japan and offers a variety of networking services, content and applications, while boasting 19.56 million service users as of the end of June, 2011. www.biglobe.co.jp/en
---