"Okaerinasaimase Goshujuin-Sama, Hime-Sama!"AM2 Announces The Return of The World Famous Animaid Cafe and Host Club This June 15-17, 2012
LOS ANGELES, Calif. (April 2, 2012) – Okaerinasaimase Goshujin-sama, Hime-sama (Welcome home Master and Mistress)! Experience service and feeling of Japanese maid cafes found in famed Akihabara, Japan with the world famous AniMaid Café and Host Club at AM2 (this summer at the most anticipated FREE summer convention June 15-17, 2012 at the Anaheim Convention Center and Anaheim Hilton). Over fifty (50+) lovely maids and gentle hosts entertain with live performances, fun interactive games, contests, prizes, merriment and fun while attendees feast upon Japanese style food and drink! More info can be found at www.am2con.org

Attendees can come and relax with cute maids and hosts as they serve delicious food with love. Enjoy dances on stage from your maids to popular Asian pop songs. Play games for a chance to win prizes. Everything from Hungry Hungry Hippos, Rock 'em Sock 'em Robots, to an intense game of Jenga with your cute maid or host. Beat the maids/hosts three times to win a personalized picture! It's an entertainment café with an anime premise hailing all the way from the traditional Maid Cafes of Akihabara, Japan.
This year at AM2, The Host Club inspired by the Host clubs of Roppongi, will have three (3) evening shows which feature handsome hosts selected especially for our female guests. Enjoy the romantic and sophisticated atmosphere created as your host treats each lady as his own princess. If you're looking for the company of a debonair host, don't miss this special event!
Animaid Café leader "Kchan" states, "We are here to entertain and serve otaku like ourselves who would like to have the chance to experience the ultimate in modern customer service/entertainment experience. AniMaid Café has super "moe" (adorable) maids to serve their masters and extremely debonair hosts to serve their mistresses with love."
The AniMaid Café and Host Club is fun for all ages, with over fifty (50+) lovely maids and gentle hosts to entertain with live performances, fun interactive games, contests, prizes, merriment and fun as they serve guests who wish to experience the service and feel of the maid cafés of Akihabara, Japan. With delectable Japanese food and drinks, the highly praised AniMaid Café and Host Club will definitely be a huge hit and a hot ticket item and surely something you will not want to miss experiencing!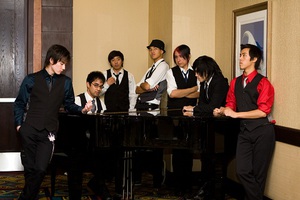 AM2 representative Chase Wang states, "The AniMaid Café and Host Club are amazing events exclusive to AM2. Only here can you truly experience what a maid café culture is like in Akihabra and the host café culture of Roppongi. Come and join the fun and have the time of your life!"
To attend AniMaid Café or Host Club all attendees MUST purchase a Ticket to the event (different from convention passport). This is not a free event.
Rules:
• Tickets are non-refundable.
• Tickets are exchangeable – only if first comes first serve and the shows are available.
• There will be 100 tickets per show.
• All tickets are on sale at www.am2con.org and at AM2 convention before the shows.
• Attendees can pick up or purchase tickets at AniMaid Café/Host Club – TBA
• Please print out your Paypal Receipt and bring it with you to check in.
• At check in, the primary guest/purchaser must provide proper photo ID that matches the name on Paypal.
Notes:
• There will be 100 tickets per hour. All tickets will be sold on www.am2con.organd any left over tickets will be sold at convention before the show.
Attendees can pick up their show tickets at the TBA
Please note that ALL Guest of Honor activities (i.e. panels, autographs, appearances, etc.) are ALL Passport preferred activities. There will also be a private Meet & Greet event for Anaheim Hilton Room Block Attendees (room key proof is required).
Attendees can avoid the anticipated huge lines at autographs, premiere screenings, workshops, main events, concerts and panels by purchasing a Passport fast pass for the event. The Passport fast pass will also provide holders with premier seating options at Main Events and at Concert events as well as major discounts with theme parks (including Disneyland and the grand opening of Cars Land, Knotts Berry Farm, etc.), retailers and local restaurants. Bypass the lines and get your Passport today and experience the difference!
AM2 current activities include Exhibit Hall, AMV's, Arcade, Summer Festival, Behind the Voice Actors Studio, Masquerade, Dances, Fashion Shows, Table Top, Console Gaming, Workshops, Panels, Concerts and more!
AM2 Official Guests of Honor includes Andrea Libman, Quinton Flynn and Toshihiro Kawamoto.
AM2 Premieres, screenings and exclusive screenings include ACE ATTORNEY, FULLMETAL ALCHEMIST: THE STAR OF MILOS, KAIBUTSU-KUN THE MOVIE, KAIJI 2 and more!
Current Major Sponsors Include: Anime News Network and Snakebyte USA.
Follow us on Facebook and Twitter
About AM2 Located in Anaheim, California – AM2, established in 2010, is a multi-day (3 days) 24 hour event with no general attendance/badge purchase requirement and is aspiring to be a key meeting place for fans that share a common interest in Asian music, Animation/ Anime, and Comics/Manga. Nominal fees are charged for certain activities that attendees choose to participate in. AM2 will be held on June 15-17, 2012 at the Anaheim Convention Center in sunny Anaheim, California. More information can be found at www.am2con.org
The statements made in this press release that are not historical facts are "forward-looking statements." These forward-looking statements are based on current expectations and assumptions that are subject to risks and uncertainties. The Company cautions readers of this press release that a number of important factors could cause this event's actual future results to differ materially from those expressed in any such forward-looking statements. Such factors include, without limitation, product delays, industry competition, rapid changes in technology and industry standards, protection of proprietary rights, maintenance of relationships with key personnel, vendors and third-party developers, international economic and political conditions. The Company may change its intention, belief or expectation, at any time and without notice, based upon any changes in such factors, in the Company's assumptions or otherwise. The Company undertakes no obligation to release publicly any revisions to any forward-looking statements to reflect events or circumstances after the date hereof or to reflect the occurrence of unanticipated events.
---