Namco Bandai Games Unveils 'Tales of Graces' F Day One Edition Content And Launch Date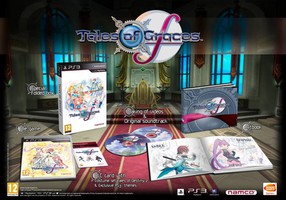 -The Latest Western Entry in the Iconic Role-Playing Series Hits EMEA and Australia on the 31st August 2012 with a Bonus-Packed, Exclusive Day One Edition -
CERGY-PONTOISE, FRANCE – 16 May 2012
– NAMCO BANDAI Games Europe today announced that acclaimed role-playing game Tales of Graces™ f is heading to EMEA and Asia Pacific on the 31st of August 2012 for PlayStation®
<(Jspan style='font-size:10.0pt;line-height:150%;font-family:"Arial","sans-serif"'>In addition to the game itself, the day one edition of Tales of Graces f - created especially for fans across Europe and Asia Pacific - highlights the artistic talents involved in the game with the Original Soundtrack, Behind the Scenes videos, and a high quality hardback art book, all included in a newly designed folded box. A special DLC is also included with original costumes from Tales of Destiny 2 and a custom PlayStation 3 theme for Tales of fans to rejoice about.
Tales of Graces f is the latest episode in the renowned Tales of series on the current generation of consoles on the Western market, and the first European appearance of the franchise on PlayStation®. The story is set against the backdrop of three kingdoms –Windor, Strata and Fendel – all struggling for dominance of the world and follows Asbel Lhant as he sets off on a journey with his comrades, protecting the bonds of friendship and fighting for his ideals.
For the first time in the Tales series, the combat system lets the player freely change attack style depending on the battle situation. The characters$B!G(J distinctive weapons can be swapped for different styles, and the new combat system is easier to control while simultaneously making battles more involving. The title is developed by NAMCO BANDAI Studios Inc. in Japan with the aim of bringing to life the rich depth of the evocative characters designed by Mutsumi Inomata.
For more information on the Tales of series, please visit
www.namcobandaigames.eu
Watch videos and trailers from NAMCO BANDAI Games Europe on YouTube at
www.youtube.com/NamcoBandaiGamesEU
---