Fruitbat Factory Presents The First Look At Japanese Indie Game, 'War of the Human Tanks'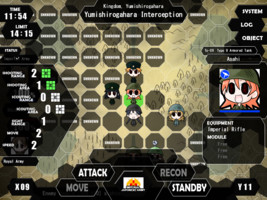 June 26th, 2012 – Independent game localization company Fruitbat Factory is proud to reveal the first teaser trailer of their upcoming tactical simulation game War of the Human Tanks. The well known Japanese title has been localized for English speaking audiences everywhere for the first time.
War of the Human Tanks series pits the group of Human Tanks commanded by the player against the opposing Commanding Officers and their forces in a campaign fought on a series of grid-based maps.
Features of the final game will include:
Fast-paced strategic battles
Branching, multi-ended storyline deliciously crafted with black humor
Use resources earned from battles to develop new tanks
Customize your tanks with various modules to deadly effect
Multiple endings based on your performance
Replay the story keeping your previously earned units and resources
Free battle mode to practice and gather extra supplies
"This first teaser trailer illustrates the tactical side of War of the Human Tanks while also giving a sneak peek into the storyline and art style" says Ozhan Sen, Localization Manager for Fruitbat Factory. "To progress through the campaign, players will have to understand their units and utilize them to their full capacity. The game will challenge players by encouraging their successes, while mistakes can also open new paths for the player."
Two new screenshots and a teaser trailer of War of the Human Tanks are available in conjunction with the press release. The trailer can be seen via the following link: War of the Human Tanks Teaser Trailer
The game is set to release on PC (Windows) by Fall of 2012.
The War of the Human Tanks press kit can be downloaded HERE. For more information about War or the Human Tanks, visit the game's official website:
fruitbatfactory.com/humantanks/
or visit their Twitter, Youtube or Facebook Page.
About Fruitbat Factory
Fruitbat Factory is newfound localization company focusing on bringing interesting Japanese indie games to English-speaking audiences. For more information, visit the developers' homepage at
www.fruitbatfactory.com/
SOURCE: Fruitbat Factory
---
discuss this in the forum (1 post)
|