XSEED Games Confirms October 1, 2013 Release Date For Rune Factory 4
XSEED GAMES CONFIRMS OCTOBER 1, 2013 RELEASE DATE FOR RUNE FACTORY 4
Popular Series Returns with Largest RPG Simulation Adventure in its History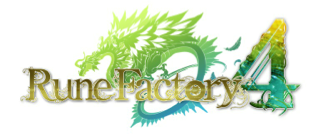 Torrance, Calif., (September 12, 2013)
– XSEED Games, the independent-minded console publishing brand of Marvelous USA, Inc., today announced that the RPG simulation adventure title
Rune Factory 4
will release on October 1, 2013 for the Nintendo 3DS™ hand-held system in North America. The title will be available both packaged and digitally on Nintendo's eShop for a MSRP of $39.99. The newly launched official website can be found at
www.runefactory4.com
.
Rune Factory 4
is a fantasy life simulation game that combines farming and resource management with classic RPG dungeon adventuring. For the first time in series history,
Rune Factory 4
gives players the option to play as a male or female hero. As the newly-appointed prince or princess, players fulfill royal duties of fulfilling requests from townsfolk, or taking a more rural approach to governing by harvesting their own fruits and vegetables to help out in other ways. The prince or princess can woo marriage candidates from among the townsfolk. Communication and gift giving will be key to romance, potentially resulting in marriage and perhaps even a child. Players will be aided in dungeon adventuring by the castle's vast armament of swords, spears, and staffs along with magical Rune abilities in battle against dangerous foes, and can even be supported by a companion or tamed friendly monsters.
Rune Factory 4
was developed in Japan by Neverland Co. and MarvelousAQL Inc., and will be released by XSEED Games in North America for the Nintendo 3DS on October 1, 2013. For more information on XSEED Games products, please visit
http://www.xseedgames.com
. Fans can also follow XSEED Games on Facebook at
www.facebook.com/XSEEDGames
and Twitter at
www.twitter.com/XSEEDGames
. This title has been rated E10+ by the ESRB.
About Marvelous USA:
Marvelous USA, Inc. is the US-based publishing operation of MarvelousAQL Inc., overseeing its two North American divisions. XSEED Games, its brand and division for unique and innovative console, PC and handheld games, has been in operation since 2004. Marvelous Online, the company's brand dedicated to mobile and online social games, is an expansion of XSEED's mobile team thanks to acquisitions by Marvelous USA. Marvelous USA is a 100% wholly-owned subsidiary of Tokyo-based MarvelousAQL Inc., a publicly-traded company listed on the Tokyo Stock Exchange. More information on Marvelous USA can be found at
www.marvelous-usa.com
, and XSEED Games can be found at
http://www.xseedgames.com
.
Nintendo trademarks and copyrights are properties of Nintendo.



---
---