MangaGamer Announces Release Date for Beat Blades Haruka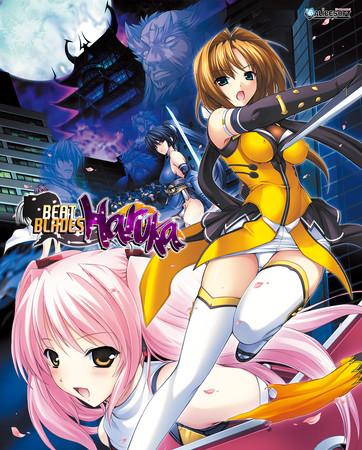 January 19th, 2016--
MangaGamer
opens pre-orders on
Beat Blades Haruka
!
It's sexy ninja fight time!
Evil ninjas have invaded Japan to try and conquer it with their deviant ideals and revive the ancient creature that grants them power! And the only way to stop them--is to get it on with your own group of ninjas!
Blessed with the special ability to grant to superpowers to those you bed, it's up to you and your manhood to train your girls and make them strong enough to fight off the encroaching evil!
Grind your way through the sheets to raise your party's stats! Fight ninjas! Destroy evil castle lairs! This raising sim contains over 150 different scenes covering a wide variety from loving vanilla to kinky to tentacles,
futa
, and more! All with sexy voices to seduce your ears!
We hope you're ready and pumped for Beat Blades Haruka, available this February 23rd! Pre-order now, and help stick it to evil!
https://youtu.be/HBQArgxOCZM
Beat Blades Haruka
Takamaru Ikusabe, a boy attending Jippou Academy, was living a peaceful life in pursuit of love, despite constant cockblocking by his landlord's daughter, Narika Shihoudou. One day, Takamaru encountered a girl who captured his heart at first sight. Her name was Haruka Takamori.
That night, Takamaru and Narika were attacked by a mysterious group of ninjas. The one who saved them from the crisis was none other than Haruka, wearing kunoichi gear.
Haruka called Takamaru her master and asked him to perform sexual acts with her. It turned out that Takamaru was the young master of a heroic ninja clan known as the Crescent Moons, and via sex, he had the ability to provide a supernatural energy called Sex Power (SP).
Haruka obtained some SP from Takamaru and managed to fight off the ninjas, but that was only the beginning of a long and arduous battle.
Beat Blades Haruka
Manufacturer: Alicesoft
Genre: Adventure, Raising Sim
Price: $34.95
OS: Windows XP(32bit), Windows Vista(32bit), Windows 7(32bit), Windows 8(32bit)
Text Language: English
Voice Language: Japanese
Age Rating: 18+
Release Date: February 23rd, 2016
ABOUT MANGAGAMER.COM
MangaGamer.com is the world's first legal download site for English translated Visual Novels. Since its launch in July 2008, it has offered services where fans can download and enjoy popular Visual Novels such as
minori
's
ef -a fairy tale of two
and
OVERDRIVE
's
Dengeki Stryker
right from their home. Don't forget to visit us on
Facebook
and
Twitter!
---