Anime Spotlight - Genshiken Second Season
by Justin Sevakis,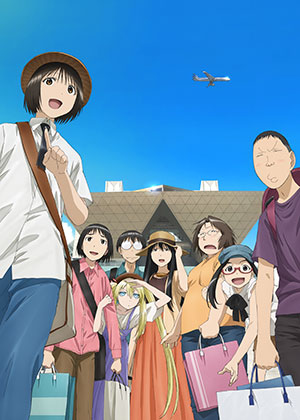 July, 2013 (Japanese Premiere)

Key Staff
Director: Tsutomu Mizushima

    (Genshiken TV and OAV, XxxHOLiC)

Series Composition: Michiko Yokote

    (Genshiken, Nabari no Ou, Air Master)

Character Design: Junichiro Taniguchi

    (Natsuyuki Rendezvous, Madoka Magica movies)

Animation Production

Production I.G







Story
Shiiou University's Society for the Study of Modern Visual Culture, AKA Genshiken. The new president, Chika Ogiue, prepares to gather new members for their club after learning from the mistakes of last year's attempts.
While their former president, Ono Kanako, continues to cosplay for herself, Ogiue attempts to draw in new members by drawing a large illustration in public! Two girls, Rika Yoshitake and Mirei Yajima, respond to the illustration and join Genshiken. But birds of a feather flock together, and both of them are "fujoshi".
Then another pure and beautiful person with chestnut hair shows up in the clubroom looking to join… But he's actually a wig-wearing girl-boy.
Now the activities of the second generation of Genshiken with these unique new members is about to begin!
Characters
Chika Ogiue
VA: Nozomi Yamamoto

President of Genshiken. She never has a day of rest with all the unique club members. She also has her work as a new manga author to manage. During their attempts to recruit new members, she drew a large illustration in public. Her boyfriend, former president Kanji Sasahara is working as an editor for a publisher.

Rika Yoshitake
VA: Sumire Uesaka

A new member of Genshiken. She joined after seeing Ogiue's illustration. She's a very open woman, and makes it well known that's a fujoshi. She's active and not afraid to do things. Her favorite genre is warring states generals. She's very knowledgeable about history.

Mirei Yajima
VA: Yumi Uchiyama

A new member of Genshiken. She joined after seeing Ogiue's illustration. Her behavior is a bit masculine, and she has a serious, stubborn personality. She seems calm, but she's a fujoshi too. She has a bit of a complex about her appearance.

Kenjiro Hato
VA: Ai Kakuma/Kazutomi Yamamoto

A new member of Genshiken. She looks like a traditional beauty, but she's a girl-boy. His love for BL grew until he started cross-dressing, and thanks to his efforts he has very smooth skin and the skill to switch between his male and female voice. He went through the door to Genshiken in hopes of finding fujoshi friends.

Kanako Ohno
VA: Yukana

Former president of Genshiken. She's a cosplayer who's also spent time abroad. Her enormous breasts stand out. Her boyfriend is Soichiro Tanaka, an old member of Genshiken. She's doing her best to get the new members of Genshiken to cosplay. She likes bald, bearded, and older male characters.

Manabu Kuchiki
VA: Jun Fukuyama

A member of Genshiken. His nickname is Kucchi. His lack of communication skills often cause problems, but for some reason he's still in Genshiken. His actions aren't easily stopped, so he's always worrying the others.

Susanna Hopkins
VA: Naomi Ozora

One of Ohno's friends from her time in America. She took a liking to Genshiken when she came to visit Japan, and now she's finally studying abroad and joining as a member. Her nickname is "Sue" or "Susie". She loves Japanese anime and manga, and often shouts lines from them. She's taken a liking to Ogiue ever since seeing her doujinshi.
Cast
Chika Ogiue

Nozomi Yamamoto

Rika Yoshitake

Sumire Uesaka

Mirei Yajima

Yumi Uchiyama

Kenjiro Hato

Ai Kakuma
Kazutomi Yamamoto

Kanako Ohno

Yukana

Manabu Kuchiki

Jun Fukuyama

Susanna Hopkins

Naomi Ozora

Harunobu Madarame

Kazuyuki Okitsu

Kanji Sasahara

Tatsuya Kobashi

Makoto Kosaka

Momoko Ohara

Saki Kasukabe

Rina Sato

SoichiroTanaka

Takayuki Kondo

Mitsunori Kugayama

Hiroki Yasumoto

Angela Burton

Misa Kobayashi

Keiko Sasahara

Ikumi Hayama

Kumiko Yabusaki

Madoka Yonezawa

Naoko Asada (Nyako)

Konomi Tada

Kaminaga

Mamiko Noto
Staff
Original Creator

Shimoku Kio
(Kodansha Afternoon Publishing)

Planning

Atsushi Moriyama
Nobuyasu Suzuki

Production

Go Nakanishi
Takuya Matsushita

Producer

Haruki Hayashi
Junichiro Tsuchiya

Director
Sound Director

Tsutomu Mizushima

Series Composition

Michiko Yokote

Character Design

Junichiro Taniguchi

Clothing Design

Takayuki Uragami

Prop Design

Shingo Takenaka

Chief Animation Director

Junichiro Taniguchi
Toshihisa Kaiya

Art Director

Ichiro Tatsuta
(Studio Fuga)

Art Design

Katsufumi Hariu
(Studio Fuga)

Color Design

Emiko Ueno

Director of Photography

Fumio Furukawa

Editing

Junichi Uematsu

3D CGI

DandeLion

Music

Shuichiro Fukuhiro

Music Production

Starchild Records

Sound Effects

Yasumasa Koyama

Sound Production

Dream Force

Recording Studio

Seion Studio

Animation Producer

Keiko Matsushita

Animation Production

Production I.G.

Production

Genshiken Second Season Project




©Kio Shimoku・Kodansha/Genshiken Second Season Project
---
discuss this in the forum (146 posts)
|
this article has been modified since it was originally posted; see change history
back to Anime Spotlight Summer 2013 - The List
Anime Spotlight homepage / archives