×
remind me tomorrow
remind me next week
never remind me
Subscribe to the ANN Newsletter • Wake up every Sunday to a curated list of ANN's most interesting posts of the week.
read more
Anime Spotlight - HARUKANA RECEIVE
by ANN Staff,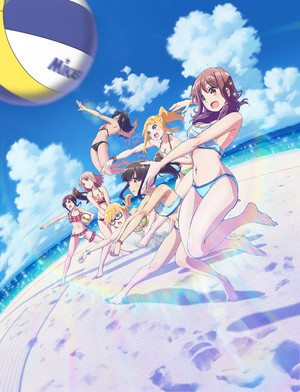 Premieres July 6, 2018 (JST)


Key Staff
Director: Toshiyuki Kubooka

(Berserk: The Golden Age Arc I - The Egg of the King (movie) , Berserk: The Golden Age Arc II - The Battle for Doldrey (movie), Berserk: The Golden Age Arc III - The Advent (movie) : Director, Storyboard, Unit Director, Key Animation)

Series Composition: Touko Machida

(Chaika the Coffin Princess (TV) , The Disappearance of Nagato Yuki-chan (TV), Allison & Lillia (TV))





Introduction
Haruka Ozora is a second-year in high school who moved from Tokyo to Okinawa. Despite being always positive and chipper, she actually has a complex hidden in her heart: she feels uncomfortable that she's taller than the average girl.
On the other hand, Kanata Higa--Haruka's cousin who came to pick her up from the airport--has a worry of her own: she quit playing her beloved volleyball because of her short stature. So different yet so alike, these two decide to form a team to play beach volleyball together.
On the sandy court, you only have one person you can rely on. With your partner's existence being the most important thing in beach volleyball, what kind of moves will Haruka and Kanata pull off!? On the sunny beaches of Okinawa, the sweat and passion of the sporty girls begin to shine!!
Character Names & Descriptions
Haruka Ozora

Voice: Kana Yūki

A second-year in high school who moved from Tokyo to Okinawa. Active and positive, she just happens to be a bit taller than the other girls her age. Because of that, she finds that unfortunately, a lot of stores don't carry shoes in her size, and clothes she finds often don't look that great on her. She's good at sports, but beach volleyball is a first for her.

Kanata Higa

Voice: Saki Miyashita

A shy and quiet girl in her second year of high school who is Haruka's cousin living in Okinawa. She had previously played beach volleyball, but she gave up because she wasn't growing any taller. She got dragged by Haruka into the world of beach volleyball with her so she can play her beloved sport once again.

Claire Thomas

Voice: Atsumi Tanezaki

A girl in the same year as Haruka at the same school. Claire has had great grades since childhood, and even now, the twins rank number two in the country for their educational prowess. She has a laid-back personality that doesn't let her worry about the small things. Because her personality is similar to Haruka's, they hit it off right away.

Emily Thomas

Voice: Rie Suegara

A serious and cool girl in the same year as Haruka at the same school. She tends to constantly quarrel with her sister Claire. She works as a member of the student council while also practicing beach volleyball after school. As their friends, Emily has always been concerned about Kanata and Narumi's relationship.

Narumi Toi

Voice: Miyuri Shimabukuro

A second-year student in Fukuchiyama Academy's high school division. She had once been beach volleyball partners with Kanata, but broke up due to Kanata's personal setbacks. She currently is partners with Ayasa, and together, they have become the high school champions of the sport. There's still a rift in her relationship with Kanata due to their past.

Ayasa Tachibana

Voice: Kanae Itō

A second-year student in Fukuchiyama Academy's high school division. She's currently Narumi's partner in beach volleyball. She was the first one to invite Haruka to start beach volleyball when she met her on the beach during practice. She has a cheery and open personality, and can talk freely with just about anyone she meets.

Voice: Chisa Kimura

A first-year at the same school as Haruka. She stands out from the rest because of her experience working in show biz, and is unable to fit in due to this. She joins the beach volleyball club after having a match with Kanata, and serves as a pseudo-manager to the team.
Cast
Haruka Ozora

Kana Yūki

Kanata Higa

Saki Miyashita

Claire Thomas

Atsumi Tanezaki

Emily Thomas

Rie Suegara

Narumi Toi

Miyuri Shimabukuro

Ayasa Tachibana

Kanae Itō

Akari oshiro

Chisa Kimura
Staff
Original Creator

Director

Toshiyuki Kubooka

Series Composition

Touko Machida

Character Design

Sub-Character Design / Costume Design

Chief Animation Director

Takeshi Oda, Tetsuya Matsukawa, Yoshiaki Tsubata

Assistant Director

Special Skills Director

Main Animator

Prop Design

Art Setting

Art Director

Backgrounds

Color Design

Field Key / 3D Director

Director of Photography

Photography

Editing

Sound Director

Sound Production

Music

Music Production

Animation Production

Production

Harukana Receive Project

Opening Theme Song

"FLY two BLUE" performed by Kana Yūki as Haruka Ozora, and Saki Miyashita as Kanata Higa

Ending Theme Song

"Wish me luck!!!!" performed by Kana Yūki as Haruka Ozora, Saki Miyashita as Kanata Higa, Atsumi Tanezaki as Claire Thomas, and Rie Suegara as Emily Thomas
©Nyoijizai,
HOUBUNSHA
/Harukana Receive Project
---
discuss this in the forum (4 posts)
|