×
remind me tomorrow
remind me next week
never remind me
Subscribe to the ANN Newsletter • Wake up every Sunday to a curated list of ANN's most interesting posts of the week.
read more
Otakon 2011

Aniplex of America Panel

by Crystalyn Hodgkins,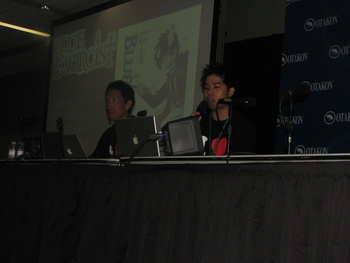 Marketing specialist E.J. Rivera and Manager of Licensing Yosuke Kodaka hosted the Aniplex of America panel to a packed crowd. The duo started the panel with a video showcasing clips from their series, such as Read or Die, Durarara!!, Baccano!, Puella Magi Madoka Magica, and the two Gurren Lagann films.
The two mentioned that Aniplex has a Facebook page, Twitter account and YouTube channel, and invited attendees to check them out. Aniplex will also have their first live event their Niconico.com channel on August 12 at 7 p.m ET. The event will be in a panel format, with a Q&A included.
They discussed their new title Blue Exorcist, with new episodes on Wednesdays, streaming on Crunchyroll, Crackle, Viz, Hulu and Anime News Network. Volumes 1 and 2 of the Blue Exorcist manga are also now available from Viz. They then showed a trailer for Durarara!!, noting that the show is on Adult Swim on Saturdays at 12:30 am and 4:30 am ET, and fans can check out more at the Durarara!! official website. All three DVD volumes of Durarara!! are available at the Aniplex booth in the dealer's room. Fans can receive a limited edition poster if they buy all three DVDs. If fans participate in Aniplex's staff rally, they can get an autographed board of Izaya.
On Saturday Aniplex will have a Durarara!! panel with cast members Johnny Yong Bosch and Patrick Seitz. A cosplay gathering is also planned.
The hosts then began showing trailers for upcoming releases. They showed a trailer for the upcoming releases of Rurouni Kenshin Trust and Betrayal OVA, the Reflection OVA, and the Rurouni Kenshin film on Blu-ray. Bandai Entertainment and Right Stuf are currently taking pre-orders for all three of these releases. The releases will have remastered footage, and American fans will receive the Blu-rays at the same time as Japan. Trust and Betrayal will also screen at New People theater in San Francisco on August 27 in HD.
Then the hosts talked about their upcoming release of Blue Exorcist on DVD. The DVDs will be released in 4 parts: in October, January, April and July.
Then they announced that they will be releasing Oreimo on DVD. Oreimo will be released in one boxset with the 12-episode TV series and the 4 OVA episodes. The DVD will be subtitled only, and the boxset will be released in October. Aniplex will also begin streaming the first 2 episodes on August 31 on Crunchyroll, Crackle and Hulu. Then each week after that, two more episodes will begin streaming.
Aniplex will also begin streaming Star Driver subtitled on Crunchyroll, Crackle and Hulu. The first two episodes will stream starting August 17. After that, every Wednesday new episodes will premiere.
The first 3 episodes of Madoka Magica will be shown later on today, with a Q&A with producer Atsuhiro Iwakami. Atsuhiro Iwakami's panel will also host a trailer for the new series Fate/Zero, the prequel to Fate/stay night.
Aniplex has a "Madoka Magica" wish board at their booth. Fans can write their wishes on the board, then they will be posted on Aniplex's Facebook and Twitter. They are also selling Madoka Magica posters, and proceeds will be donated to victims of the earthquake.
Then the two began the Q&A. Of note: Madoka Magica will be dubbed. Aniplex has no plans to release the original Rurouni Kenshin television series, but are in negotiations to bring over the new Rurouni Kenshin project in development. They are also in negotiations for releasing Welcome to THE SPACE SHOW on Blu-ray. The two then thanked the fans for coming out, and asked them to enjoy Otakon and check out their other events.
---
discuss this in the forum (14 posts)
|
this article has been modified since it was originally posted; see change history
back to Otakon 2011
Convention homepage / archives