Interest

Weekly Cosplay - Izzy Saeko's Kasumi from Dead or Alive Kicks Ass

posted on by Lynzee Loveridge
Weekly Cosplay is a new series of weekly profiles focusing on diverse groups that make up the fandom community. These profiles will highlight cosplayers of all skill and experience levels and introduce a place to discuss inspiration and challenges from costume creation to embodying the characters we all know and love. Weekly Cosplay is open to all fandom characters, whether its anime, manga, video games, or American comics.
---
Izzy Saeko has fought villains left and right since she started cosplaying almost 10 years ago, whether it was the inner voice affecting her own self-confidence or comments from others. That confidence was built over time; Izzy described her first cosplay as a "fiasco."
"I did Storm from X-Men. It was pretty bad. I had a black pleather catsuit that wasn't too flattering on me and these heels that killed my feet. I hand-stitched the X-Men logos onto the collar and there were loose threads everywhere. I also managed to get tons of make up on my wig, and since it was silver and my skin is darker, it was honestly just a fiasco."
Izzy's skills have improved since her first costume at 18-years-old. Her make-up skills are better, her stitching is better, and she's become comfortable in her own skin as a plus-size Black cosplayer.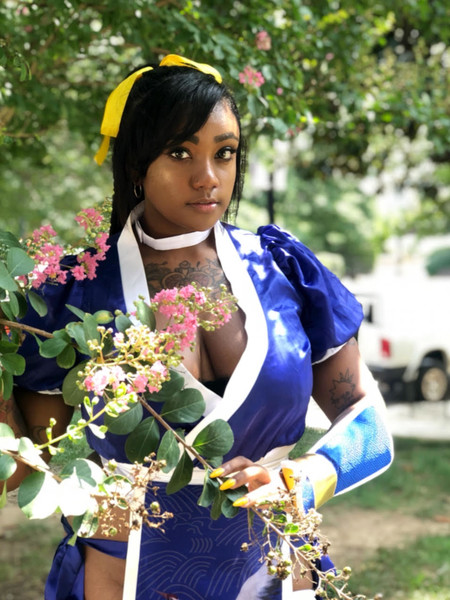 "Cosplaying while Black honestly is cosplaying while being strong and proud knowing some jerk is saying rude things. It's having the strength to still be exactly who you want in the face of adversity and love your hobby. It's fighting off racists and bigots so that our community is just as safe as any other."
It's Izzy's fighting spirit and identity that draws her to representing non-white characters. She hopes that bringing more attention to these characters could heighten their popularity and lead to more representation in anime and video games. She recently appeared in Legend of Micah's Blerdcon cosplay video, which in turn made its way on to Kotaku and she was spotlighted on Buzzfeed.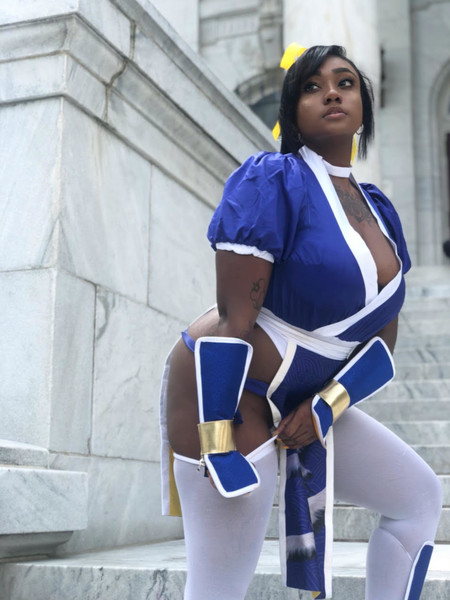 "It made me really happy and honestly humbled me because I'm like, 'Wow, I'm really in this vid with all these amazing talented people. Like, who am I?'"
Izzy's favorite part of cosplay is still the rush of getting asked by fans for a photo op. She wants to remind aspiring cosplayers not to be discouraged by negativity within the community.
"It's fun and you meet amazing people. I've met two of the most beautiful people I know through cosplay and can't imagine my life without them. The places you go and the memories you make are irreplaceable."
---
Want to follow this week's cosplayer? You can find Izzy Saeko on:
---
This article has a follow-up:
Weekly Cosplay - Hey Jay is the Best Jeanist, Naturally
(2018-09-15 15:45)
follow-up of
Weekly Cosplay - EscoBlades Takes on Black Panther's Mantle