Super Princess (manga)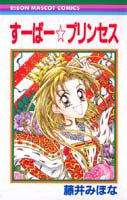 Alternative title:
すーぱー・プリンセス (Japanese)
Plot Summary:
Anna Tsuyusaki, an elite high school fencer, received a pendant from her parents as a souvenir from Europe. It has a portrait of a medieval European princess who looks strikingly similar to Anna. Later, when Anna fell asleep, she saw the princess named "Harriet" weeping and asking Anna to set her free from her political marriage. Thinking it was merely a dream, Anna agreed to exchange body with Harriet, only to find herself in a medieval castle when she woke up.
Vintage:
1998-10-17 (serialized in Ribon Autumn Bikkuri Extra)
1999-04-15 (Japanese tabkoubon)
You can contribute information to this page, but first you must login or register
Japanese staff
Japanese cast

(none)


Japanese companies
This encyclopedia is collaboratively edited by the users of this site
# A B C D E F G H I J K L M N O P Q R S T U V W X Y Z
Manga anthology
Paul gets into the recent film remake of this gearhead classic, along with all this week's new anime releases!
― I really liked the ending of Recovery of an MMO Junkie this week, but now I'm starting to realize that the early finale means I'll have to get through the rest of the season without it. You know a series is good when the thought of not having new episodes to watch makes you feel a little ...
One of the most beloved shojo anime of all time comes to Blu-ray in this "sweet sixteen" special edition set! Rebecca Silverman looks back on how this heartwarming classic has held up sixteen years later.
― Back when it was first released, Fruits Basket, based on the manga of the same name by Natsuki Takaya, was a sensation. Combining elements of fantasy, slice-of-life, and reverse harem romance come...
Mike devours a few episodes of the genre-smashing French action cartoon Lastman and wonders - is this anime?
― Earlier this year I was at the Crunchyroll Expo, where I hosted a bunch of discussion panels and presented a couple of my own. The homogenous look and omnipresent Crunchyroll branding took some getting used to, but it was ultimately an energetic and well-run show, a deft mix of the stuff I l...
My Monster Secret's sixth volume maintains its madcap romcom appeal in spite of some predictably glacial pacing. Nick Creamer has the details.
― At last, it's time for action. As My Monster Secret's sixth volume opens, our hero Asahi reiterates his determination to actually confess to his vampiric classmate Shiragami. Having been spurred into action by the courage of his childhood friend Mikan, he's ...
With Monster Musume and Miss Kobayashi's Dragon Maid in the rearview mirror and a few more weeks to wait before Killing Bites next season, here are seven great monster girl manga to whet your appetite.
― Back in 2015, monster girls were all the rage thanks to Okayado's hit Monster Musume. The anime adaptation was one of the first to introduce a harem of all non-human girls. It also successfully marr...
Shonen Jump's rising hit series captivates with a dark tale about a cruel and unusual home for orphans. Rebecca Silverman plunges the depths of this promising new title.
― When Jonathan Swift published his satirical treatise on why the economic crisis in Ireland could be solved by eating children in 1729, it took him until the final lines to clue his readers in on the joke. The Promised Neverland tak...
Jacob Grady, FAKKU founder and freshly-minted owner of Kitty Media drops by ANNCast for another round of questions and answers about the business of ero (plus skateboards).
― ANNCast Episode 313 - Ecchi Sketches Jacob Grady, FAKKU founder and freshly-minted owner of Kitty Media drops by ANNCast for another round of questions and answers about the business of ero (plus skateboards). You can listen to...
Recap episodes pop up in plenty of anime, retelling parts of a story you just watched. Why do these recap episodes exist in the age of streaming? Justin gets into it.
― It's the holiday season, so people are pretty busy. There's gift-buying, there's decorating, there are parties and for students, final exams. But that also means my questions tend to run dry, so if you can spare a moment, please send...
Who would come out on top in the ultimate contest for the Holy Grail? Gabriella Ekens has your guide to the best Heroic Spirits in every class that will guarantee your victory as a Master!
― Now that we've learned the backstories of all those famous characters here on Fate Fridays, we can proceed to the Fate universe's central question: who would win the fight for the Holy Grail? I've looked over all...
The charming shoujo series ends much as it began - sweet and cute enough to give you cavities. Rebecca Silverman reflects on this heartwarming story's conclusion.
― There isn't much to wrap up in Amu Meguro's tooth-rottingly adorable shoujo romance Honey So Sweet. Nao and Taiga are together. They're happy. They plan to be together for the duration. Short of manufacturing a dreadful disease or a paren...
Land of the Lustrous remains on top of the throne, but March races up 7 places! Find out how your favorite shows performed in our weekly user rankings!
― Our team of reviewers are following 31 anime series of the Fall 2017 season and readers are rating each episode as the reviews go up. So let's have a look at what ANN readers consider the best (and worst) of the season. Keep in mind that these rank...
To call this romcom divisive would be a gross understatement, mixing wry observations on the publishing industry with a heap of eyebrow-raising fetishes. Is this show's journey worth taking despite several miles of speedbumps?
― To call A Sister's All You Need. divisive would be a gross understatement, as a romcom that mixes wry observations on the publishing industry with a heap of eyebrow-raising f...