Watashi no + Okusuri (manga)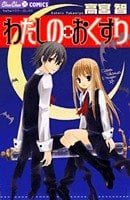 Alternative title:
わたしの+おくすり (Japanese)
我的+魔法靈藥 (Chinese (Taiwan))
Plot Summary:
Inori, a n honor student on a witches school, is assigned to make a love portion as her graduation exam. In order to make this love potion she was sent to the family of Aoi, half human and half wizard. She needs to make Aoi fall in love with her, but the problem is, they don't get along at all.
User Ratings:
5 ratings have been given [details]

 Masterpiece: 1 vote

(sub:1)

 Excellent: 2 votes (raw:1, others:1

1 +

)

 Good: 1 vote (others:1

1 Russian

)

Seen in part or in whole by 30 users, rank: #1976 (of 5126)
Median rating: Excellent
Arithmetic mean: 8.200 (Very good+), std. dev.: 1.4697, rank: #703 (of 5296)
Weighted mean: 8.239 (Very good+), rank: #647 (of 5296)

(seen all: 8.24)


Bayesian estimate: 8.031 (Very good), rank: #435 (of 3031)

You can contribute information to this page, but first you must login or register
This encyclopedia is collaboratively edited by the users of this site
# A B C D E F G H I J K L M N O P Q R S T U V W X Y Z
Manga anthology