×
remind me tomorrow
remind me next week
never remind me
Subscribe to the ANN Newsletter • Wake up every Sunday to a curated list of ANN's most interesting posts of the week.
read more
Event Report: Hatsune Miku Expo 2018 in New York City
by Rai Kelly,

Every two years, a giant line filled with cosplayers, heads of green hair, and t-shirts adorning a pig-tailed girl stands in the middle of Manhattan, right across from Madison Square Garden. What are all those people waiting for? Hatsune Miku, vocaloid and virtual idol, who's going to put on a live concert later that night at Hammerstein Ballroom.

First Stop: Miku Painting Event in NJ

Earlier in the day, before the much-awaited show in NYC, there was special event at Paramus Park Mall in Paramus, New Jersey. The organizers of the concert held a painting event, where fans could paint their very own Miku figures. You could also make traditional Chigiri-e art, or design your own 2D Miku that will appear in a compilation music video. Fans showed up early, eager to make their figures.

When the event began, paint and markers were given out and fans got busy - all kinds of Mikus were made, some with traditional Miku colors and designs, while other fans went in a completely different direction. But that's okay. The best thing about Miku – probably what has made her so popular – is that she is completely fan-made and you can create her into whatever you want. This was seen in full effect as more and more Miku figures were completed. When fans were done with their creations, they were allowed to take an item from a pile of free Miku merchandise. As one of the workers said, it was "Miku Christmas."

Next Stop: New York City
Back in NYC, the crowd entered the concert hall and began shaking their glowsticks once the lights dimmed. As the cheers heightened, several glowing balls of light appeared on the stage, each representing the different Vocaloids at the concert: Kaito, Meiko, Luka, and Rin and Len. Then, finally, the main attraction appeared… Miku herself, whom the crowd cheered the loudest for.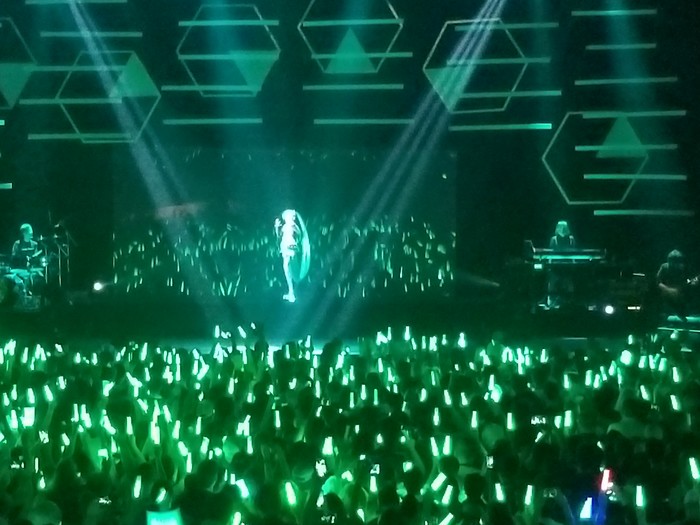 Her very first song was "Miku Miku ni Shite Ageru," which is a perfect opening with its upbeat rhythm and its underlying meaning. With the multicolor lights, the concert had an explosive start. Next up was "Senbonzakura," a staple Miku song. As cherry blossoms fell, she danced with sweeping movements. The third song was a bit of a surprise. Instead of singing "Ghost Rule" (which she sang at other recent US concerts), Miku sang "Raspberry*Monster," complete with the short pigtails, red outfit, and green tights from the video. It was a worthwhile surprise, especially with the awesome pyrotechnic effects. Then, the music stopped and Miku introduced herself to the venue- in English! After, she broke right into "Age Age Again," a fun, bubbly song you can't help but dance to.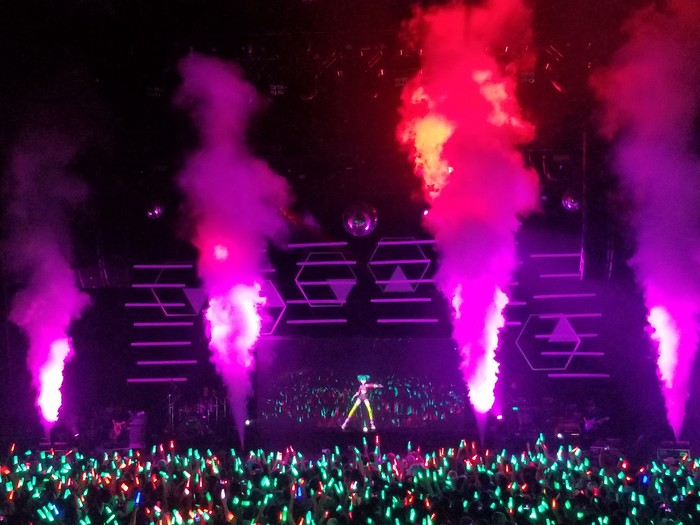 The Other Vocaloids Steal the Show
Next, Rin made her first appearance of the night with her song "Meltdown," wearing a black and white dress and poofy pigtails.
Although Rin was awesome, Len really stole the show with his next song, "Law-evading Rock." There is just something about this song that makes you want to, well, rock. To make things better, Len had some swagger in his step as he danced and even did the moonwalk.
The crowd was excited for Len, but their reaction paled in comparison when Kaito appeared onstage in an ornate outfit (we're talking thigh-high boots). The concert hall instantly was filled with blue glowsticks and girls' shrieks as he began singing "Doctor = Funk Beat." The blue theater turned to red when Meiko appeared in a sexy black dress and passionately sang "Lovers Suicide in Oblivion."

Back to Miku
Miku came back out for "Glow", a slower song that helped ease the breakneck pacing of the concert, but it was only a brief respite. After that short break, Miku sang "Through the Night." Even though this song has a great, heavy beat, the audience seemed baffled. This song is brand new, only about two months old, so many fans weren't familiar with it, but they snapped right out of it (or more like exploded out of it) as they recognized Miku's famous song "Romeo and Cinderella."
Miku worked the audience up with an extra-sassy performance of "Envy Catwalk", then switched gears and sang the English song "Can't Make A Song!!" which was the winner of 2018 USA & Mexico Song Contest. It's really no wonder this song won. It's just so Miku.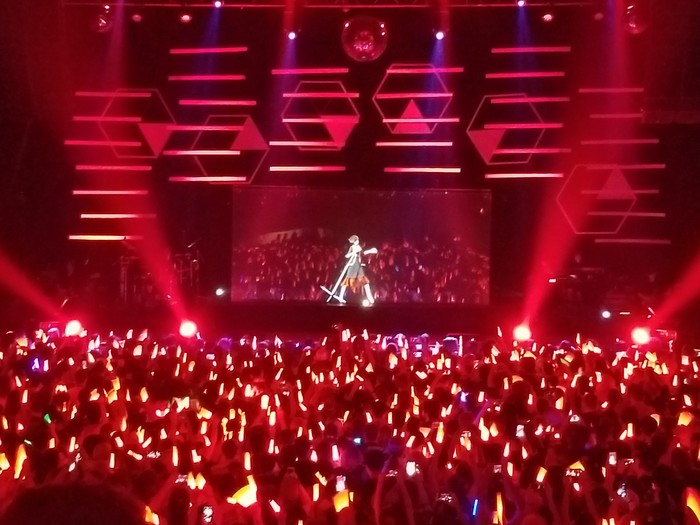 Luka, the Twins, and the Band
Then came another surprise: pink beauty Luka came on stage but didn't sing "Double Lariat" as expected. Instead, she sang her smash hit "Just Be Friends." And the crowd went nuts, pink glowsticks thrashing everywhere. Afterward, Luka gave the stage to both Rin and Len. Together, the twins performed the songs "8HIT," "Remote Control," and "Gemini." Their shenanigans in these songs (especially "Remote Control") never get old.
Now it was time for a little break. Miku's infamous song NYANYANYA (the background music in the Nyan Cat video) played as the live band members were introduced: Kensuke Ito on drums, Tsuguhito Konno on bass, MEG.ME on keyboard, and Takahiro Misawa on guitar. The audience applauded all four, knowing how hard they work to put on the performance.

More Miku (and Some Luka)
The venue was instantly reenergized when Miku came back on stage adorning a devil outfit (the little tail flailed as she danced) and began singing "Satisfaction," with its irresistible beat. So far, the concert's setlist already had two changes, but there was one more in store. Instead of "Kimagure Mercy," Miku performed the addictive "Hibikase." The song sounded even more intense than usual as it echoed through the concert hall, and Miku's sharp movements added to this effect. But the crowd wasn't done going nuts. Not yet. The moment they heard "Dame, dame, yo!" the hall erupted into cheers- Luka performed her flashy and infectious hit "Luka Luka ★ Night Fever." Luka lit the crowd on fire. It's a bit of a shame she didn't perform more songs, like she did in the 2016 concert.
Even if you aren't a big vocaloid fan, you've probably heard the next song Miku performed: "World is Mine." The song is about Miku being the greatest princess in the world. It's one of Miku's most popular songs of all time, and it continues to be a classic to this day. During most of the concert, fans did their best to sing along to the Japanese lyrics. But during "World Is Mine," everyone the sang every single Japanese word. That's how iconic this song is.
The next song was the lowkey "Sakura no Ame," which gave the crowd a little time to breathe. The audience waved their glowsticks back and forth in slow unison. But then, gasps echoed as the words "Last Song" displayed. The "final" song was "Decade," the official song for Miku's 2018 North American tour.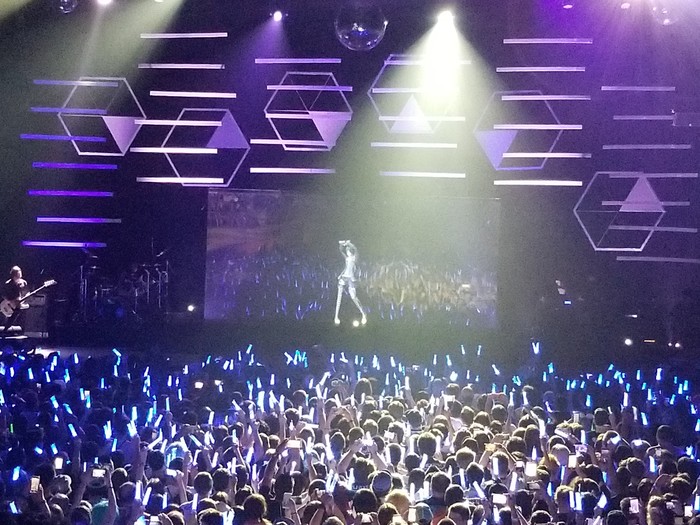 The Encore
But it wasn't over. When Miku left the stage, the crowded cheered "MIKU!" or "ENCORE!" until the lights dimmed again, and the screen said "THANK YOU, ENCORE!" From there, Miku went right into the bombastic "Sand Planet" (sometimes called "Dune"). And everyone lost their minds. The best part was when the chorus kicked in with a heavy "YEAH," the bright lights blared, and Miku thrust her fist in the air.
The second encore song was "Miku" by Anamanaguchi. This English song captures the mystery, excitement, and overall appeal of Miku, making it a very poignant song for the concert. The third encore song was one of Miku's most successful and popular songs in the US – if not the whole world – for the past few years: "Tell Your World." For me, there are really no words to describe her performance; in my opinion, "Tell Your World" transcends all other Miku songs.
Finally, Miku sang "Melt" as the actual final song. "Melt" is almost ten years old and came out at the beginning of Miku's career. Playing it as the last song is almost like a tribute to how much Miku has grown over the years. As the song ended, Miku slowly evaporated into the air, gone as quickly as she had appeared, a bittersweet – but satisfying – feeling. It goes without saying that Miku and the other vocaloids have become a phenomenon. She lives in the hearts of many fans, and I'm sure her next concert (in two years!) will be an even bigger success.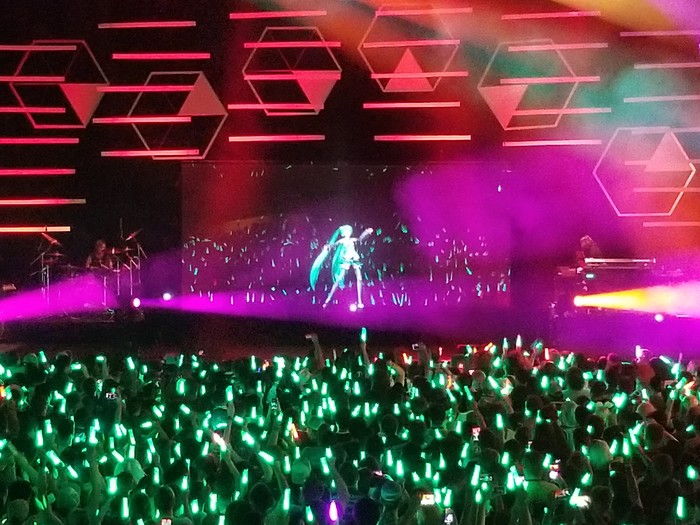 The Complete Setlist
1. Miku Miku ni Shite Ageru by ika (performed by Miku)
2. Senbonzakura by KurousaP (performed by Miku)
3. Raspberry * Monster by HoneyWorks (performed by Miku)

Miku's Introduction

4. AgeAge Again by Mitchie M (performed by Miku)
5. Meltdown by iroha (performed by Rin)
6. Law-evading Rock by Neru (performed by Len)
7. Doctor = Funk Beat by nyanyannya (performed by KAITO)
8. Lovers Suicide in Oblivion by OPA ft. (performed by MEIKO)
9. glow by keeno (performed by Miku)
10. Through the Night by Slushii (performed by Miku)
11. Romeo and Cinderella by doriko (performed by Miku)
12. Envy Catwalk by Tohma (performed by Miku)
13. Can't Make A Song!! by beat_shoban (performed by Miku)
14. Just Be Friends by Dixie Flatline (performed by Luka)
15. 8HIT by JesusP (performed by Rin & Len)
16. Remote Control by JesusP (performed by Rin & Len)
17. Gemini by Dixie Flatline (performed by Rin & Len)

Band's Introduction
18. Satisfaction by kz (livetune) (performed by Miku)
19. Hibikase by REOL (performed by Miku)
20. Luka Luka★Night Fever by samfree (performed by Luka)
21. World is Mine by ryo (supercell) (performed by Miku)
22. Sakura no Ame by halyosy (performed by Miku)
23. Decade by Dixie Flatline (performed by Miku)

Encore
24. Sand Planet [sometimes called Dune] by Hachi (performed by Miku)
25. Miku by Anamanaguchi (performed by Miku)
26. Tell Your World by kz (livetune) (performed by Miku)
27. Melt by ryo (supercell) (performed by Miku)

---
discuss this in the forum (11 posts)
|