MAZINGER Z: Infinity Ticket Giveaway
The classic giant robot series is reborn in an all-new movie! VIZ Media, Toei, and Fathom Events are joining forces to bring MAZINGER Z: Infinity to the big screen in a special, limited engagement on February 11 and 12, 2018.
We are giving away 5 pairs of tickets to our 5 lucky winners!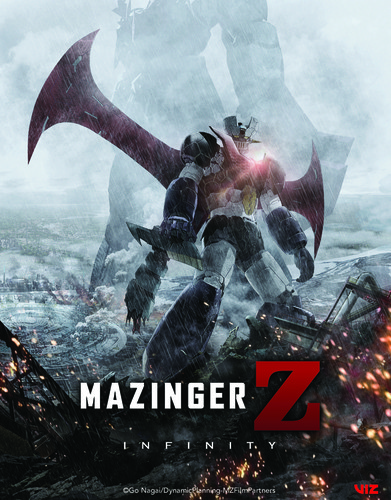 Movie Trailer:
Ten years ago, the villainous scientist Dr. Hell led his wicked followers, known as the Underground Empire, in a struggle to destroy all of humanity. It was against these forces that the young hero Koji Kabuto fought, piloting the legendary super robot "Mazinger Z." Koji's victory stopped Dr. Hell's evil plan and returned peace to the Earth.


Now Koji has left the pilot seat behind and become a scientist in his own right, following in his father's and grandfather's footsteps. Yet an unexpected encounter deep under Mt. Fuji triggers an even greater threat to mankind than ever before and alters Koji's destiny forever. With humanity's fate in their hands, Koji and Mazinger Z face a choice between good…and evil.


Theaters, Showtimes and Tickets are available here. Movie will be presented in Japanese with English subtitles for all showings. All ticketed attendees will also receive a special MAZINGER Z: Infinity poster while supplies last.
Contest has Ended! CONGRATULATIONS to our winners!
Mark Cole
Jairus Taylor
Ronnie Deen Jr
Justin Gillam
Sean Marsala

The Fine Print: Although unlikely to happen, Anime News Network reserves the right to cancel this contest at any time. Contest is open to any and all residents of the planet Earth and neighbour parallel dimensions, but prizes will only be shipped within the continental United States and Canada (elsewhere, you have to arrange to have it sent to someone living in the appropriate area, and they can send it to you.) Winners' names and city/state/province
will be posted
on AnimeNewsNetwork.com, their mailing addresses will be provided to our sponsor and/or shipping agent of choice (ex: USPS), and no one else. Winners' addresses and e-mail addresses will be erased once the prizes have been shipped. Non-winners' names, e-mail and mailing addresses will not be given out to any one and will be erased when the winners have been confirmed. Non-winners will not be contacted, spammed or harassed in any way. We reserve the right to retroactively add new rules when and how we see fit.
---
discuss this in the forum (7 posts)
|
this article has been modified since it was originally posted; see change history