Interest

Precure's 1st Permanent Official Shop to Open Friday

posted on

2011-07-13

10:40 EDT by Egan Loo
Magical girl anime inspires shop near Tokyo station with 400 items
---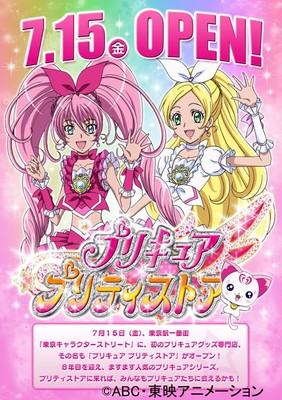 Precure Pretty Store, the first permanent official store dedicated to the popular magical girl anime franchise Precure, will open in Tokyo on Friday. Toei Animation is opening the store at the Tokyo Character Street mini-mall next to the Tokyo JR railway hub.
The first Precure anime series premiered in 2004, but the previous shops have been temporary pop-up shops or event booths. The Precure Pretty Store will bring together about 400 items, from popular items to original goods that can only be bought at the store. Toei adds, "If you're lucky, you might even get a chance to meet the Precure girls!?"
Since 2008, Tokyo Character Street has hosted Shueisha's Jump Shop, Studio Ghibli's Donguri Garden, Tsubaraya Productions' Ultraman World M78, and other shops dedicated to anime/manga/live-action special-effects works.
Source: Anime Anime Japan
Image © ABC, Toei Animation
---