News

G4 to Premiere X-Men Anime in October with Scott Porter

posted on by Joseph First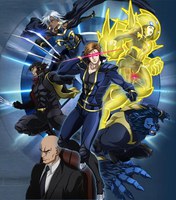 The American television channel G4 and the production company Marvel announced on Wednesday that G4 will premiere Marvel's anime series X-Men on October 21 with Scott Porter as the voice of Cyclops. This summer, G4 has been running Marvel's Iron Man and Wolverine Anime. G4 will launch the 12 half-hour weekly episodes of X-Men on Friday, October 21 at 11:00 p.m. ET.
The story of X-Men revolves around the title mutant team being reunited after a death of a teammate. The members search in Japan for a missing teenage girl, Hisako Ikichi. "There, they encounter the fanatical and anti-mutant group, U-MEN, and discover what was important enough for Xavier to bring them back together."
Marvel's Blade Anime will be released through the same partnership with G4 this coming winter.
[Via TYByTheNumbers]
---