Interest

One Piece Manga Inspires Limited-Edition PSP Model

posted on by Egan Loo
Gold Straw Hat Pirates symbols & Chopper adorn black PSP with bundled RPG
---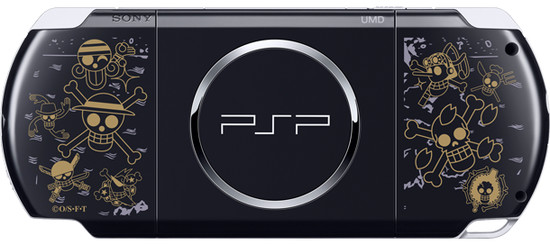 Sony Computer Entertainment Japan announced on Saturday that it will release a limited-edition PSP model inspired by the upcoming One Piece Romance Dawn: Bōken no Yoake "pirate romance" role-playing game. The black One Piece Romance Dawn: Bōken no Yoake Straw Hat Pirates Edition PSP is decorated with symbols of the Staw Hat Pirate Flag and the individual members on the back. A gold Chopper peers out from the front of the system.

The game is not based on "Romance Dawn," Eiichiro Oda's prototype manga for what would eventually become One Piece. Instead, the title reflects the fact that the game covers the "Romance Dawn" arc of the manga, at the "dawn" of pirate Luffy's adventures in the East Blue. It will feature 30 minutes of brand-new anime footage.

Namco Bandai Games will release the game in Japan on December 20 on both UMD and through digital download for 5,980 yen (about US$77). Those who pre-order the game will receive nine custom PSP themes of the Straw Hat Pirates' wanted posters, a serial code for obtaining a limited figure in the Mobage One Piece Grand Collection game, and a map for the special quest with Kuzan (Aokiji) as seen in One Piece Film Z.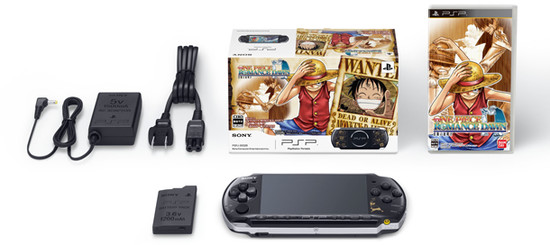 The Straw Hat Pirates Edition PSP (model number PSPJ-30028) comes with the game and all of its pre-order extras, still another custom theme that is exclusive with this set, a battery pack, and an AC adaptor. It will cost 19,780 yen (US$251) when it ships on December 20.
Source: Dengeki
---