Interest

Funassyi Goes Red for Gundam the Origin's Char Aznable

posted on by Bamboo Dong
The normally yellow mascot takes on Char's signature red.
---
Funassyi, the pear-shaped mascot (and unlikely recording artist) of Tokyo suburb Funabashi, has traded in his yellow color for a bright red, in honor of Char "The Red Comet" Aznable.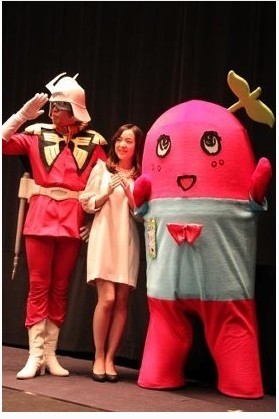 The mascot appeared alongside voice actress Megumi Han (Artesia Som Deikun) and Char at a press conference on February 24 for Mobile Suit Gundam: The Origin, a four-part OVA adapted from Yoshikazu Yasuhiko's manga that tells Char's origin story. At the press conference, Char was represented by comedian Numacchi, who is noted for portraying Char Aznable in various sketches.
The first installment, "Blue-Eyed Casval," will play for two weeks in 10 Japanese theaters, starting on February 28. Anime Consortium Japan (ACJ) will offer the series simultaneously worldwide (except Japan and China) via premium rental streaming on Daisuki. It will be available in both Japanese and English audio.
Source: Mainichi Shimbun; cover image from Oricon News
---