Interest

'Shōnen' Isn't Just for Boys at Shōnen Jump Festa 2018

posted on by Kim Morrissy
Droves of female fans and gamers came out for the multi-day event
---
Jump Festa is an annual exposition dedicated to celebrating all things Shonen Jump—and also quite a few things that have nothing to do with Jump manga at all. Although the focus of the event is around Shueisha properties, game companies such as Nintendo, Capcom, and Square Enix take the opportunity to show off their own properties. In fact, some parts of the convention look almost indistinguishable from the Tokyo Game Show. You can therefore think of Jump Festa as like a general Japanese anime and games convention, just with a Shonen Jump slant.
The other thing worth noting about Jump Festa is that it's roughly split into two types of attractions: merchandise booths and games. The "merchandise" part is fairly straightforward: retailers such as Animate sell their Shonen Jump goods, many of which are exclusive to the Jump Festa 2018 event. The games at Jump Festa, on the other, are incredibly varied, ranging from simple carnival games to VR, console, arcade, and mobile games. A large section of the hall was even dedicated to playing the Yu-Gi-Oh! trading card game, as you can see below: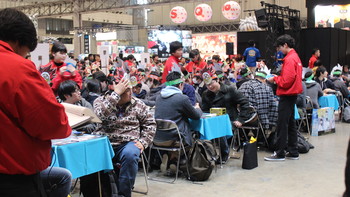 It is immediately clear even before you walk inside the Makuhari Messe convention center that the Jump Festa is set up to cater to two different types of Jump consumers. People who are interested in buying merch get into a different line of entry than the people who just want to play the games and see the attractions. Everyone ends up in the same convention space eventually, but if you're focused on buying the exclusive merch before it gets sold out, you can get into a queue specifically for that.

Young women were a big target audience at Jump Festa this year. Lines with merchandise for Haikyuu!, Gintama, Prince of Tennis, and Kuroko's Basketball ran all the way down the hall for much of the day. Legions of female fans were also present at the Jump Super Stage (located in hall 7 at Makuhari Messe) when announcements about the new Prince of Tennis anime project were being made.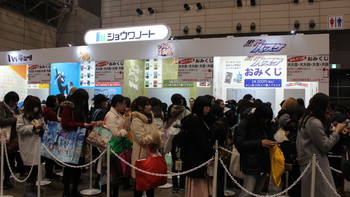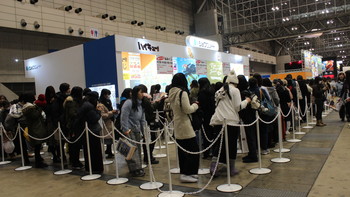 In general, there was something for everyone at Jump Festa. Dozens of live talk shows about various different manga series were being held at several stage areas throughout the day. Manga artists, voice actors, editors, and even popular Japanese YouTubers appeared on stage to discuss Shonen Jump manga. Editors even walked around during the day with signs on their backs saying "Please talk to me!"

Pictured here is the editor of Yuuna and the Haunted Hot Springs, dressed in the same outfit as the female protagonist of the manga. (It was announced at the Jump Festa that an anime adaptation of the series will be airing in Summer 2018.)
One of the biggest attractions was a huge manga illustration exhibit, which showcased art from the currently serializing manga from the various Jump magazines. One thing I couldn't help noticing was the presence of art from the Rurouni Kenshin: Hokkaido arc manga. Rurouni Kenshin has currently ceased serialization due to the manga artist facing charges for possession of child pornography. The series wasn't marketed at Jump Festa, and unlike the other manga artists, Nobuhiro Watsuki did not leave signed illustrated artwork on the display board for everyone to see. This was why it came as a surprise to me to see artwork from the Hokkaido Arc featured at all. Readers can make of that what they will.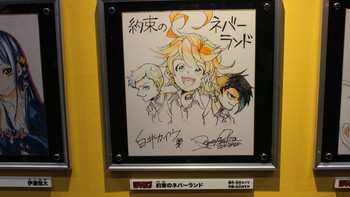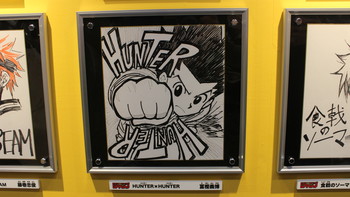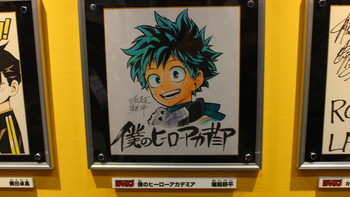 On a lighter note, the games at Jump Festa were a major highlight of the event. Winning the games could net you some free postcards and other goods. The coolest thing about the games, though, is that some of them drew from the franchises they were tied to in a clever manner. For example, this Black Clover baseball game involves hitting a ball of fire back at the cutout of Magna—an identical challenge is shown in episode 6 of the anime series.

Then there's this Dragon Ball Super game, where you can get blown back by Goku or Vegeta's beam attack.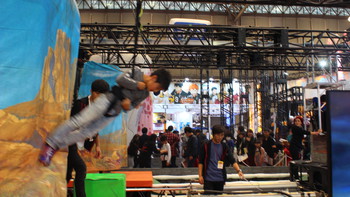 Other carnival games were more conventional, like this whack-a-mole game that's part of the One Punch Man hero challenge.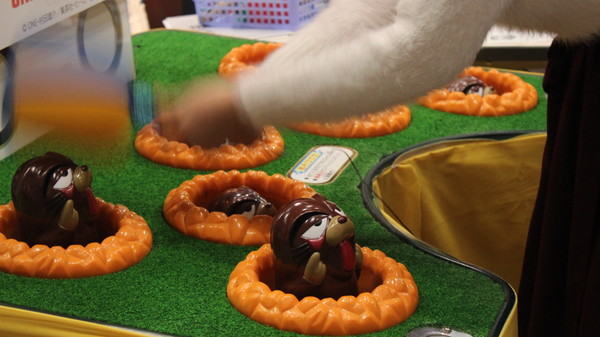 I doubt many things can top playing Everybody's Golf with Shonen Jump characters, though.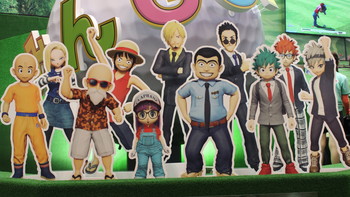 Finally, it was nice to see so many cosplayers at the event, despite the fact that there weren't many areas set up to take cosplay photos. It seemed that a lot of people came in Shonen Jump cosplay just to feel more involved in the event itself, not necessarily to pose for other people's cameras.


I had an enjoyable time at Jump Festa 2018, even if I was puzzled about why people were playing Splatoon 2 and Monster Hunter World there. The heavy gaming presence may be a sign that Shonen Jump brand has drifted away from manga and more toward games and multimedia projects, but it also shows how the medium has continuously developed in order to appeal to men and women of all ages. If Jump Festa is an indicator of anything, it's that "shonen" isn't just "for the boys."
---