News

The Anime Network Streams Episodes Online for Free

posted on by Egan Loo
12 titles, with 3 episodes each, are currently available with ads
---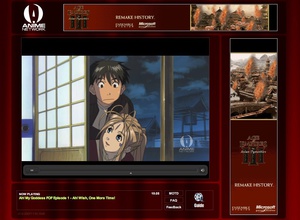 The Anime Network, AD Vision's 24-hour anime television channel, has begun streaming entire episodes from 12 anime titles for free on its website this week. The service displays video advertisements before, during, and after an episode, but otherwise allows users to jump to any point in the episode. Each title has three episodes available for viewing, and the service promises new anime every Thursday. The online player requires Adobe Flash 9 and a fast Internet connection, but has no other apparent restrictions.
The service currently offers the following titles:
Ah! My Goddess: Flights of Fancy
Air Gear
BASTof Syndrome
Chance Pop Session
Comic Party Revolution
Gilgamesh
Jinki Extend
Kurau Phantom Memory
Magical Play
Pani Poni Dash!
Saiyuki
Utawarerumono
The Adult Swim channel and Cartoon Network's Toonami programing block offer similar free online services (Adult Swim Fix and Toonami Jetstream, respectively) with anime, although Toonami Jetstream requires the Microsoft Windows operating system.
---