News

Eyeglass Store Sells Official Library War Glasses

posted on

2008-04-15

13:28 EDT
Asako character to wear different pair of Zoff prescription glasses every week
---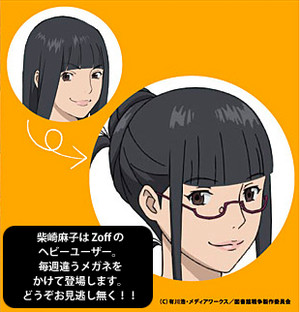 Not-So-Daily Link of the Day: Every week, the new Library War television anime series is outfitting a character with a different pair of prescription glasses from a store chain in Japan, and the chain is inviting fans to buy the real pairs. The science-fiction comedy series premiered on April 10 and centers on a military unit that protects libraries and freedom of expression from government encroachment. Asako Shibasaki (Miyuki Sawashiro), the roommate of the heroine Iku Kasahara (Marina Inoue), is wearing a different, newly designed pair of prescription glasses in every episode. Shibasaki's eyeglasses can actually be bought at Zoff, a chain of Japanese eyeglass stores. Takyuki Hamana (The Prince of Tennis, Sisters of Wellber) is directing this Production I.G production.
Source: Mainichi Newspapers
---
With a patched-up Chapter 13 and a new DLC mission for Gladiolus, are Final Fantasy XV's story woes finally fixed? Dustin goes through all the changes. PLUS: Persona 5 and more!
― I did it, you guys. I finally finished Zelda. I know, I know—you all were deeply concerned for my progress and my ability to find time to complete a very enjoyable video game. I appreciate your support in this dark time, bu...
If you need a quick refresher on last year's superpowered shonen hit before the second season arrives, Nicholas Dupree's got you covered!
― My Hero Academia, last year's hit shounen action title, is circling around for a second season, and it looks to be coming back with a bang. Boasting a larger episode count, even more big-name animators courtesy of Studio Bones, and a brand new prime-time slot, al...
Gabriella Ekens breaks down how Your Name. works as a culmination of Makoto Shinkai's career and why it became such a megahit in this first look at Funimation's english dub release!
― I feel like I've been waiting to be impressed by Makoto Shinkai. That's not to say that his previous work has been bad. It's just been a bit aimless, repetitive, or overwhelmed by a tendency to wallow in his signature a...
Can this highly anticipated JRPG live up to the legacy of its predecessors? Dave Riley explores what new innovations Persona 5 brings to the table.
― Even though it's five hours before the game slips the tutorial reins and lets you loose in a full-on dungeon, Persona 5's opening grips you immediately and doesn't let go. In contrast to the milquetoast player-inserts of games past, this player-characte...
It's been four long years since Attack on Titan first swung its Colossal foot into anime fandom, so James Beckett's guide will catch you up on season one and hint at what to keep an eye on for season two!
― If there was an entry for "crossover hit" in the dictionary, it wouldn't be strange to see a big picture of Attack on Titan right next to the definition. It's easy to forget if you've been consum...
Take a tour through hundreds of photos from all the otaku spots in Japan - Akihabara, Ikebukuro, Nakano and much more! From retro games to Kemono Friends to Yuri on Ice to Disneyland!
― I travel to Japan every couple years to help cover AnimeJapan at Big Sight, and we usually try and do photo travelogues while we're there – this year we were far too busy to pull that off (look forward to some special...
Perry's new system sends the office (and Luna) into a state of emergency - and things are just about to explode!
―
This yuri romance's first volume has some significant issues up front, but it also have the potential to improve. Rebecca Silverman explains.
― It has been a good few months for fans of yuri manga, and Kiss and White Lily for my Dearest Girl marks Yen Press' foray into the genre, at least in the subgenre of schoolgirl romance. Set at the all girls' academy Seiran, the story follows former top student...
Sometimes the anime bluray you want sells out instantly,, sometimes it goes on deep discount 3 months after release. How do print runs work?
― Anonymous asks: How do anime companies decide the size of a bluray's "print run"? What goes wrong if they get it wrong and print too many or too few? When a new show is licensed, any and all dubs are made, the subtitles are done, the authoring is in the can, ...
Gabriella Ekens plunges into the wildly creative world of Rie Matsumoto's frantic, fantastical family in Kyousougiga! PLUS: this week's new releases!
― Since I have relatives on both sides of the country, I'm used to the six hour ordeal of flying from coast to coast. Getting stuck in an airport for seven hours last Thursday after missing a connecting flight was a new and special brand of misery, how...
Erika takes a new tack in this middle volume of three omnibuses. It's a good development, but the book has some overall pacing issues.
― Sometimes having the shoe on the other foot can work wonders. Other times, it can make us complacent. That seems to be the major factor at play here in the middle volume of Umineko: When They Cry's sixth arc, Dawn of the Golden Witch - with Battler having switched s...