News

Ponyo, Winter Sonata's Anime Voice Casts Announced

posted on by Egan Loo
---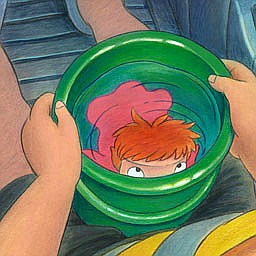 The main voice casts for Studio Ghibli's upcoming Ponyo on the Cliff by the Sea film and the anime remake of the Korean live-action Winter Sonata drama have been announced. Child actors Yuria Nana and Hiroki Doi play the respective roles of the titular goldfish Ponyo and her new human friend Sōsuke. The rest of the cast includes veterans of stage, film, and television
as well as
musician Akiko Yano (My Neighbors the Yamadas). The movie opens in Japan on July 19.
Risa (Sōsuke's mother): Tomoko Yamaguchi (Coo: Tooi Umi Kara Kita Coo, cult seven)
Kōichi (Sōsuke's father): Kazushige Nagashima (You're Under Arrest: The Drama)
Guranmanmare (Ponyo's mother): Yūki Amami (Socrates in Love)
Fujimoto (Ponyo's father): George Tokoro (Buzz Lightyear in Toy Story's Japanese dub)
Ponyo: Yuria Nana
Sōsuke: Hiroki Doi
Toki: Kazuko Yoshiyuki (Maiko Haaaan!!!, Lady Snowblood: Love Song of Vengeance)
Yoshie: Tomoko Naraoka (Shirahata no Shoujo Ryuuko)

In a separate development, Choi Ji-Woo will reprise her starring role of Jung Yu-Jin in the anime
adaptation
of the worldwide hit Korean drama, Winter Sonata. The drama follows Jung and her male classmate Kang Joon-Sang as tragedy and angst befalls them and those around them in the years between high school and young adulthood. Kang's actor Bae Yong-Joon had already
agreed
to reprise his role as part of the
deal
that gave his Key East company's production credit for the anime.
Source:
animeanime.jp,
Saishin Anime Jōhō
---