News

Manga Artist Junko Mizuno Works on Marvel Project

posted on by Egan Loo
Editor
C.B. Cebulski
hints at project not "officially announced just yet"
---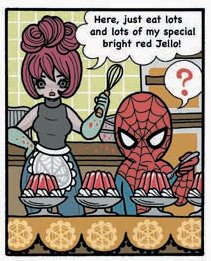 C. B. Cebulski, an editor at Marvel Comics, posted two Spider-Man drawings by Junko Mizuno and indicated that the manga artist is working on a Marvel project that "hasn't been officially announced just yet." Viz Media previously published Mizuno's Cinderalla, Hansel and Gretel, Princess Mermaid, while Last Gasp Publishing and jaPress shipped her Pure Trance manga. Mizuno also recently released A-ko-chan no Beautiful Cinema, a book of movie reviews in manga format, in Japan.
Before he worked at Marvel, Cebulski served as the editor-in-chief at CPM Manga and founded Fanboy Entertainment, Inc. At his earlier jobs, he helped bring the manga of Kia Asamiya, Tomoko Taniguchi, and Satoshi Urushihara to North America. He also translated the early issues of Ryoichi Ikegami's Spider-Man manga for Marvel Comics.
Source: Publishers Weekly's The Beat
---