×
remind me tomorrow
remind me next week
never remind me
Subscribe to the ANN Newsletter • Wake up every Sunday to a curated list of ANN's most interesting posts of the week.
read more
News

Japanese Comic Ranking, November 30-December 6 (Updated)

posted on by Egan Loo
---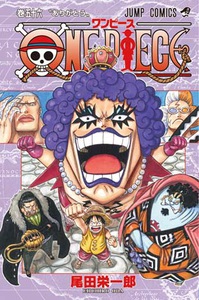 Update: Shueisha published 2.85 million copies of the 56th volume of Eiichiro Oda's One Piece pirate manga — the largest print run that any Japanese manga has ever had in its first printing. So far, 1,363,868 copies have sold in the first week, and that is before the 10th One Piece theatrical anime film, One Piece Film Strong World, will open in Japan on December 12.
Meanwhile, Square Enix will ship the 24th volume of Hiromu Arakawa's Fullmetal Alchemist on December 22. With that volume, Square Enix will have printed a total of over 40 million Fullmetal Alchemist manga book volumes — the first Square Enix manga to reach that threshold. Fullmetal Alchemist is one of only five manga titles to sell over 1 million copies of one volume in 2009. (The other four titles are One Piece, Naruto, NANA, and Nodame Cantabile.)
Rank
Prev. Rank
Title
Author
Weekly Copies
Total Copies
Publisher
Price
Cover
1
-
One Piece #56
Eiichiro Oda
1,363,868
1,363,868
Shueisha
Y420
2
-
Bleach #42
Tite Kubo
475,911
475,911
Shueisha
Y420
3
1
Nodame Cantabile #23
Tomoko Ninomiya
320,873
790,217
Kodansha
Y440
4
-
Katekyo Hitman Reborn! #27
Akira Amano
253,866
253,866
Shueisha
Y420
5
-
D.Gray-man #19
Katsura Hoshino
244,049
244,049
Shueisha
Y460
6
4
Kuroshitsuji #8
Yana Toboso
189,800
440,538
Square Enix
Y590
7
3
Yotsuba&! #9
Kiyohiko Azuma
143,721
408,181
ASCII Media Works/ Kadokawa Group Publishing
Y630
8
-
Nurarihyon no Mago #8
Hiroshi Shiibashi
109,637
109,637
Shueisha
Y420
9
-
Toriko #7
Mitsutoshi Shimabukuro
102,567
102,567
Shueisha
Y420
10
2
Real #9
Takehiko Inoue
101,010
422,035
Shueisha
Y630
11
-
Vampire Knight #11
Matsuri Hino
89,897
89,897
Hakusensha
Y420
12
-
Kure-nai #4
Original Creator: Kentarō Katayama
Art: Yamato Yamamoto
59,227
59,227
Shueisha
Y460
13
8
Pandora Hearts #10
Jun Mochizuki
55,148
139,667
Square Enix
Y590
14
-
Anedoki— #1
Mizuki Kawashita
Shueisha
Y420
54,618
54,618
15
-
Medaka Box #2
Original Story: NisiOisin
Art: Akira Akatsuki
Shueisha
Y420
54,194
54,194
16
-
Naruto Hiden • Kai no Sho Official Premium Fan Book
Masashi Kishimoto
53,744
53,744
Shueisha
Y690
17
-
Shinya Shokudō #5
Yarō Abe
48,347
49,069
Shogakukan
Y780
18
5
Detective Conan
(Case Closed) #66
Gosho Aoyama
44,953
488,419
Shogakukan
Y420
19
-
Birdy the Mighty Evolution #3
Masami Yuuki
38,600
39,158
Shogakukan
Y540
20
11
Black Bird #9
Kanoko Sakurakoji
32,269
100,014
Shogakukan
Y420
21
6
Billy Bat #2
Art: Naoki Urasawa
Story Joint Collaboration: Takashi Nagasaki
31,662
225,148
Shogakukan
Y620
22
-
Shin Tennis no Ouji-sama (The New Prince of Tennis) Official Character Guide PeaPuri Vol. 2
Takeshi Konomi
31,556
31,556
Shueisha
Y500
23
14
Fairy Tail #18
Hiro Mashima
29,266
303,815
Kodansha
Y440
24
15
Kaze Hikaru #27
Taeko Watanabe
29,086
87,151
Shogakukan
Y420
25
7
Bamboo Blade #12
Story: Masahiro Totsuka
Art: Aguri Igarashi
27,901
116,470
Square Enix
Y540
26
20
Naruto #48
Masashi Kishimoto
27,759
1,066,694
Shueisha
Y420
27
-
Higanjima #29
Kōji Matsumoto
27,642
27,642
Kodansha
Y580
28
-
Lord #17
Story: Buronson
Art: Ryoichi Ikegami 
27,466
27,757
Shogakukan
Y550
29
9
Strobe Edge #7
Io Sakisaka
27,183
109,758
Shueisha
Y420
30
10
Cross Game #16
Mitsuru Adachi
26,708
290,258
Shogakukan
Y420
Source: Oricon, Tohan, Mainichi Shimbun's Mantan Web
---
This article has a follow-up:
Japanese Comic Ranking, December 7-13
(2009-12-16 17:03)
follow-up of
2009 Japanese Comic Ranking, #26-50