News

Black Lagoon OVA's 1st Episode to Air in Japan in June

posted on by Gia Manry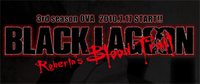 The official website of the Black Lagoon anime franchise has
announced
that the first episode of the Black Lagoon: Roberta's Blood Trail original video anime
series
will air on various Japanese television stations between June 26 and 29. Osaka's MBS station will air a long "TV Edit" version of the episode on June 26, while seven other stations will show a short "TV Edit."
Anime Expo 2010 had previously
announced
that it would host the world premiere of the first episode on July 1 at 1:30 p.m. in Los Angeles. The new anime series is slated to be five episodes long, with the first episode released on DVD and Blu-ray Disc on July 17 in Japan. The anime marks the return of former guerrilla assassin Roberta to the fictional criminal's city of Roanapur, Thailand.
Source: Saishin Anime Jōhō
---