News

Gainax to Animate Dantalian no Shoka Light Novel

posted on

2010-06-28

09:42 EDT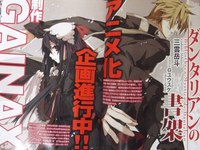 The August issue of Kadokawa Shoten's The Sneaker magazine is confirming on Wednesday that the studio Gainax is producing the anime adaptation of Gakuto Mikumo's Bibliotheca Mystica de Dantalian (Dantalian no Shoka) light novel series. In this story, a young man in 1920s London meets a girl who handles the Bibliotheca Mystica de Dantalian, the forbidden books of demonic wisdom.
Gainax co-founder Hiroyuki Yamaga already revealed at California's FanimeCon last month that his studio's next work after the previously announced television series Panty & Stocking with Garterbelt would be more "refined" and set in 20th-century Great Britain. He then added in an ANN interview that it is based on a novel set in 1920s England and revolves around a boy and a girl who collect magical books. An April job listing had already revealed that Gainax is working on a new anime production from May to October, and the job listing indicated that the project is set in Great Britain from 1900 to 1930.
[Via 2channel]
---
The Fall 2016 Anime Preview Guide has begun! Check back daily for fresh previews of every new show this season!
Available Now: DREAM FESTIVAL
― Welcome to Anime News Network's Fall 2016 Preview Guide! Here's how it goes: our team of critics write up their impressions instantly and they get posted as they go along. Each critic will cover as many shows as they can handle, resulting in alternate takes ...
We're constantly running news stories about awesome anime themed cafes in Japan - but most of them seem like they're only open for about a week. What gives?
― Ophno Im'Portynce asks: I notice pretty regularly on ANN that there are themed restaurants that open up in Japan, particularly around the Tokyo area. These restaurants and merchandise shops are usually anime or game based and are themed around...
BL mangaka Hico Yamanaka makes the jump to shoujo with this bleak tale of a girl living in poverty roped into impersonating a missing rich boy.
― There's bleak, and then there's Atsuko's life in The Prince in his Dark Days. Everything about her life is drenched in misery: her mother is gone, her father, unable to cope with her loss, is an angry alcoholic, and there's not even enough money for Atsuko ...
Another group of girls with special magical powers fighting against Neuroi over cold skies of eastern Europe
― World Witches Series: 502nd Joint Fighter Wing Brave Witches Visit the Official Site Story Characters Trailer Cast & Staff Gallery On air starting October 5, 2016 in Japan Key Staff Director: Kazuhiro Takamura (Strike Witches,Vividred Operation) Series Composition: Striker Unit (Strike Witc...
Prolific American writers join forces with their Japanese peers
― Bungo Stray Dogs 2 Visit the Official Site › Story Characters Trailer Cast & Staff Gallery On air starting October 5, 2016 Key Staff Director: Takuya Igarashi (Ouran High School Host Club, Sailor Moon Sailor Stars, Soul Eater) Series Composition: Yoji Enokido (FLCL, Revolutionary Girl Utena (TV), Revolutionary Girl Utena: The Movie, S...
Can these teenagers take on the burden of saving their world?
― BBK/BRNK: The Gentle Giants of the Galaxy Visit the Official Site › Story Characters Trailer Cast & Staff Gallery Broadcast Begins October 1, 2016 (JST) Key Staff Character Design: Yusuke Kozaki (Fire Emblem Awakening, NO MORE HEROES) Music: Masaru Yokoyama (Your Lie in April, Plastic Memories) Introduction Can they pull it off? Story L...
Dustin runs down the biggest Fall games, from Pokemon Sun & Moon to Final Fantasy XV! PLUS: An N64 emulator on the Xbox and much more!
― It's a slow news week. There aren't a lot of games out. So what do we game fans do when there aren't a lot of current events? We certainly don't catch up on our back catalogs! No, we look to the future. Now that we're entering the fourth quarter of the year—you know...
Yoshiyuki Tomino returns to the director's chair for the first time in over ten years for this unorthodox Gundam series, but has the franchise's creator lost his edge? Lauren Orsini investigates.
― The confusion that is Gundam Reconguista in G begins with the name. The word comes from the Spanish reconquista, or "reconquest" in English, but has been altered for a hard "G" sound, as director Yoshiyuki...
With the fall season upon us, it's a reminder of just how much new anime there is every season. Justin considers the angles - and we'd love to hear your secrets for keeping up!
― Nathan asks: I'm an anime fan since the late 90s, returning to regular watching after a hiatus since around 2004. Now, EVERYTHING seems to be coming over, and the front page of Anime News Network seems like a deluge of unfa...
The Summer 2016 anime season is over - so it's time to pick our favorites! From Mob Psycho 100 to Sweetness & Lightning, find out our critics' picks for the best and worst of the season - and don't forget to share yours!
― Summer is wrapping up, which means it's time to poll our Daily Streaming Reviews team and find out which shows they loved the most, and which shows they'll try the hardest to forge...
In the second half of this cult shonen hit's first season, Class E faces some of their greatest challenges yet! Rebecca Silverman breaks down the highs and lows.
― I hope that I can be as effective a teacher as Koro-sensei someday. Despite the fact that he's a giant tentacular octopus who destroyed the moon and threatens to do the same to the Earth, he also truly cares about his students and manages ...
Mob Psycho 100 and New Game! race up the charts as we head into the final weeks of Summer 2016! Find out how all your favorite shows fared in our weekly rankings!
― Our team of reviewers are following 30 anime series of the Summer 2016 season and readers are rating each episode as the reviews go up. So let's have a look at what ANN readers consider the best (and worst) of the season. Keep in mind th...
Luna's got a foolproof plan to watch nearly the entire fall anime season at once!
― Editor's Note: We've had a slight schedule change - due to preview guide and an upcoming personal event, we'll be doing these shorter strips for the next 2 weeks. We'll be back to our usual story pages the week of October 17! Thanks for reading!
Theron Martin takes on the fourth installment of the Fate/kaleid franchise, which returns the series to a greater focus on story and action in a mysterious alternate world.
― At 12 episodes, the fourth installment of the Fate/kaleid liner franchise is its longest to date. It's apparently not the last installment in the franchise either, given the recent advertisement for an upcoming movie. That's goo...